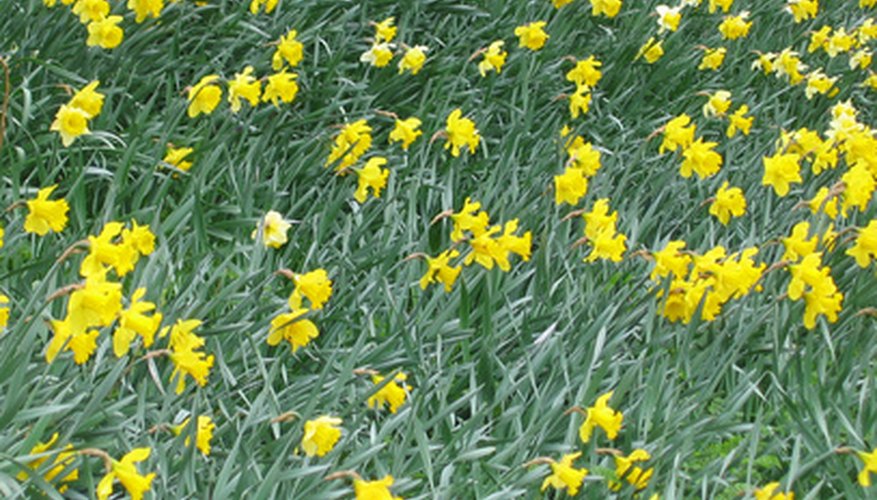 Gardening resources advise gardeners to store any unplanted bulbs in a paper bag in a cool, dry place. If you forgot to label those bulbs, though, come planting time, you might wonder which bulb is which. Bulbs are divided into two categories: spring-blooming bulbs and summer-blooming bulbs. They're favored by gardeners for their low-maintenance, profuse blooming. Spring bulbs are planted in the fall and include daffodils, tulips, crocus and hyacinth. Tender bulbs like gladiolas, cannas and dahlias are planted in the spring and dug up in the fall for winter storage. Additionally, bulbs vary in their characteristics according to species.
Inspect the bulbs in question to establish the bulb category. True bulbs include daffodils and tulips and are small, pointed on one end, and have a papery shell. Corms, such as crocus and gladiolas, have a modified swollen stem. Rhizomes are fleshy, moist tubers that grow in clusters underground and form flowers such as bearded iris and lily of the valley.
Consider the size and shape of the bulb. Daffodil (or narcissus), tulip, snowdrop and scilla are true bulbs and resemble a small onion or clove of garlic. Daffodil are the largest bulbs, ranging from 1 to 3 inches in size. Tulips bulbs are slightly smaller than daffodil bulbs, depending on the variety, and have a brown papery shell. Scilla are small (1/2 inch or less), fat and round. Snowdrop bulbs are the smallest (1/4 to 1/2 inch) and have a white shell.
Look for a bud. Corms are flat on the bottom and pointed at the top, similar to a true bulb, but they also have a bud protruding out of the top. Crocus corms (or bulbs) are 1/2 to 1 inch in size and have several soft, pointed buds. Gladiolus bulbs look like a clove of garlic with one or two spear-like shoots protruding from the top.
Count the parts of the bulb in question. Daffodils and tulips may develop two or three nodules within one papery shell, but they are joined as one large bulb. Tubers, on the other hand, have multiple, separate parts. Dahlia grow from a clump of long tubers, resembling small sweet potatoes. Dig up an iris and you'll find a clump of white, elongated, flat tubers that can be separated by hand or with a trowel.
Tips
Dig up tender bulbs in late summer and store in a labeled paper bag in a well-ventilated, cool place, such as a dry shed.

Inspect bulbs before planting. Discard mushy, soft bulbs with signs of decay.