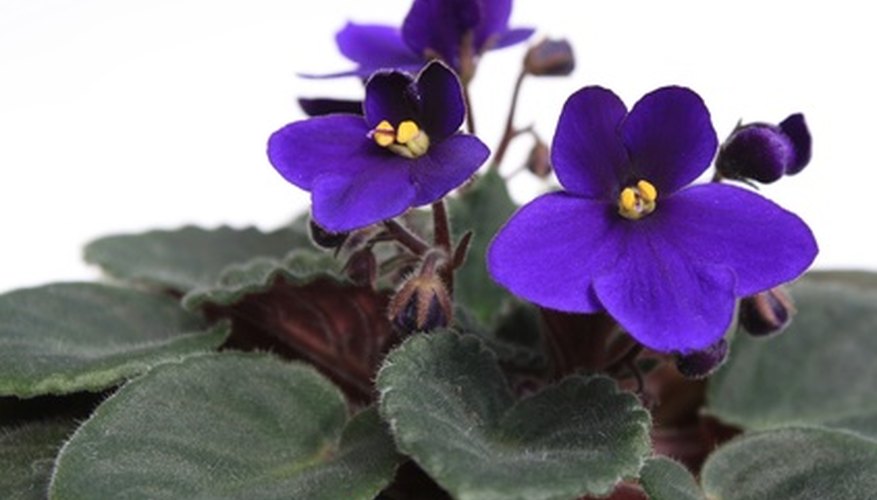 Different plants bloom during different seasons, but there are very few plants that bloom throughout the year. Flowering is an important time in the life cycle of a plant and requires lots of energy. For plants to bloom well, they require good sunlight during daytime, cool temperatures at night, and adequate and regular watering. By providing these ideal conditions, it is possible to make certain plants that flower most of the year bloom more.
African Violet
The African violet can be grown indoors in pots and blooms year-round. It is available in a variety of sizes and colors. Well adapted for houses, it is free-blooming and easy to propagate. Propagation is achieved by placing leaf cuttings in nutrient-rich potting soil. It should not be exposed to temperatures below 60 degrees Fahrenheit or above 80 degrees Fahrenheit. The plant should be placed near a window or a bright light source, but not under direct sunlight. Water it regularly; the soil should be neither dry nor soggy, and watering by a wick is preferable. Higher humidity is recommended.
Geranium
The geranium is known for its beautiful, sweet-scented flowers and attractive foliage. It comes in several different varieties and hybrids, which vary in size and color. It can grow from 6 inches to a few feet tall. It is important to choose the right spot and the right time to plant; it should be planted after frost. For propagation, place stem cuttings in a pot with 3 to 4 inches of soil. Watering should be regular and abundant in a soil that is well drained. Blight, leaf spots and black stem rot are some problems that may affect the plant.
Firecracker Vine
A native of Mexico, Central America and South America, firecracker vine flowers throughout the year in good warm conditions. This vine needs less maintenance and produces red tooth-like flowers that turn orange, yellow and finally white. The vine grows to about 6 to 10 feet in length and needs support for growing. Firecracker vine grows well in well-drained soil rich in organic content. Propagation is achieved by sowing seeds directly.
Begonia
The begonia is a tuber plant popular for its attractive and colorful flowers. Begonias produce flowers in shades of white, pink, red, yellow, orange and salmon; bi-color flowers are also common. Plant begonia cuttings (along with the tubers) in well-fertilized soil that is not exposed to frost. The soil should not be soggy; allow it to dry between waterings.
Impatiens
The impatien is one of the most popular plants grown in beds, and also one of the few to grow well in shaded conditions. The flowers bloom in colors of white, red, pink, orange, salmon, violet and lavender, depending on the variety. Impatiens need sufficient shade, well-fertilized soil and sufficient watering to grow well. Propagation of the impatien is achieved by placing a stem cutting directly into the pot. The plant grows to between 6 and 18 inches in height.