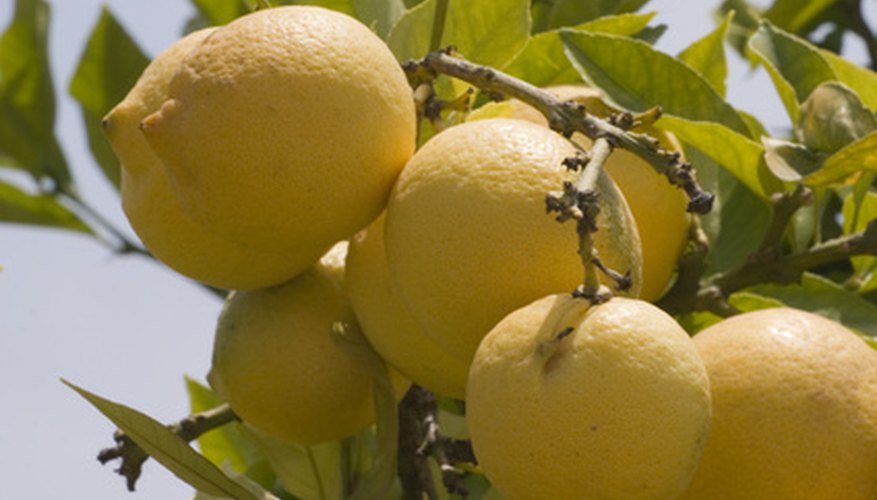 Lemonade lemon citrus trees (Citrus limon x reticulata) are highly praised for their beauty and fruit they produce. These trees were first sold by a nursery in Australia and are a cross between the standard lemon tree, and the Mandarin orange tree. The fruit of the lemonade lemon citrus tree can be eaten directly from the tree, unlike standard lemons. The fruit of this tree is sweet, much like the Mandarin orange. The lemonade lemon citrus tree is easily grown and cared for like any other citrus tree.
Plant the lemonade lemon citrus tree during spring, after the danger of frost has passed. Plant the tree in an area that receives full sunlight for most of the day, using a spade shovel. The soil in the planting area should be well drained and not pool water. Make sure you plant the tree at least 6 feet away from your home, outbuildings, or other structures and trees.
Water the lemonade lemon citrus tree daily for the first week after planting, to make sure the young tree stays well watered. Watering the tree as needed to maintain constantly moist will suffice after the first week.
Fertilize the lemonade lemon citrus tree after it begins to sprout new growth in its new planting area. Use a fertilizer designed for citrus trees for best results. You can purchase a citrus tree fertilizer at your local garden specialty store.
Prune the lemonade lemon citrus tree throughout the year only to remove dead or overgrown growth. Yearly pruning is not necessary. Removing excess fruit will help keep down the risk of branch breakage. Complete any pruning using sharp pruning shears.
Things You Will Need
Spade shovel

Water

Citrus tree fertilizer

Pruning shears
Tip
Lemonade lemon citrus trees do not require any special care to survive the winter.