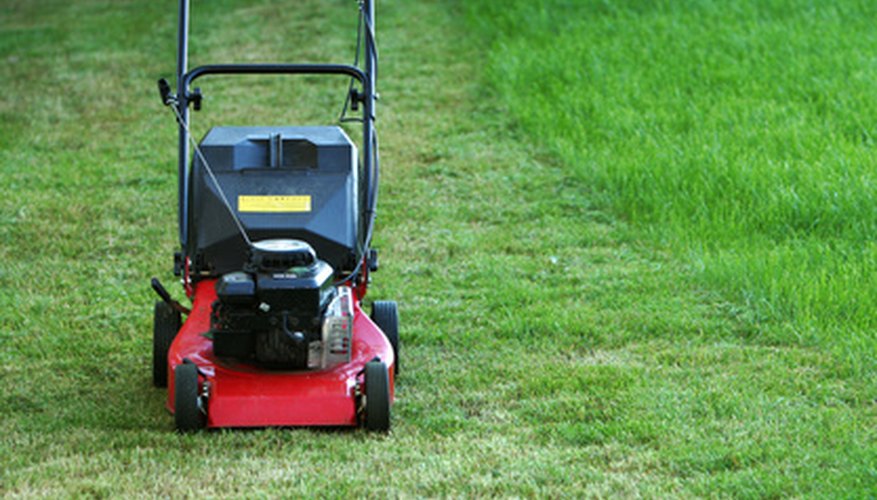 Fescue grass (Festuca) is a cool-season grass suitable for planting in all but the deep southern United States. According to Texas A&M University's Department of Horticultural Sciences, there are 100 species of fescue. When irrigated, this grass remains green annually. Plant fescue in the fall in warm areas and in either fall or spring in cool areas. The grass seed will not grow well if planted in hot summers, though mature grass can withstand summer heat with watering.
Mow over your existing lawn before attempting to plant fescue grass. Cut your lawn as short as possible using a lawn mower and remove any grass clippings from your lawn.
Add bagged topsoil to uneven patches or dips in your lawn to create an even grade. When the fescue grows in, your lawn will be smooth and flat.
Rake bare patches on your lawn with a small metal rake to loosen the top 1/4 inch of soil.
Sow fescue grass seed across your lawn using a mechanical spreader. Texas A&M advises 6 to 8 pounds of fescue seed per 1,000 square feet of lawn. Apply 16 seeds per inch.
Apply a grass seed accelerator to help the fescue seed germinate. Follow the ratio on your grass seed accelerator package.
Water the newly planted lawn once a day until the seeds germinate. Only water until the soil is moist but not sodden.
Things You Will Need
Lawn mower

Topsoil

Rake

Fescue seed

Mechanical spreader

Grass seed accelerator

Water