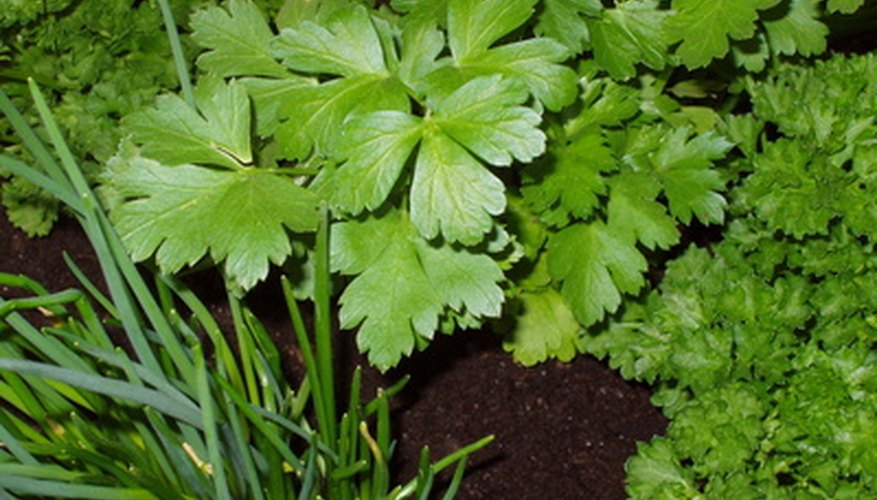 Herbs are used throughout the world to season food, scent a room and relieve various medical conditions. Many herb varieties are simple to grow in containers of your vegetable garden. Add fresh and healthy flavor to your favorite recipes by harvesting directly from your herb garden or dry out your herbs for future use. Beginning gardeners only need a few simple tools to begin growing their own herb garden.
Start your herb seeds indoors six to eight weeks before the last freeze. Fill a planting tray two-thirds full of a light seed starting soil. Spray the soil until you notice water dripping from the bottom of the tray.
Poke holes in the soil 3 inches apart to the depth that each herb variety should be sown. Typically a seed should be planted four times as deep as its width. Place two to three seeds in each hole and cover with soil. Wrap the tray in plastic wrap to maintain moisture and place the tray in a warm location out of direct sun.
Remove the plastic wrap when the seedlings sprout from the soil. Move the tray to a sunny location and keep the soil moist. Cut away the weakest seedling from each hole when the seedlings have developed two leaves. Cut away all but the strongest plants once the second set of leaves develops.
Remove the top 15 inches of soil from the area of your garden where you wish to plant your herbs. Incorporate 20 to 30 percent compost into the soil. Line the bottom 3 inches of the bed with small stones or pot shards to ensure adequate drainage and fill the soil back in.
Make holes in your prepared soil slightly larger than the root ball of each herb seedling. Place the root ball in the hole and fill in with the removed soil. Firm the soil around the base of the plant. Space herbs according to the needs of each variety.
Water your herb garden thoroughly and let the soil nearly dry out between waterings. Your herbs will grow deeper roots and become more resilient to drought conditions.