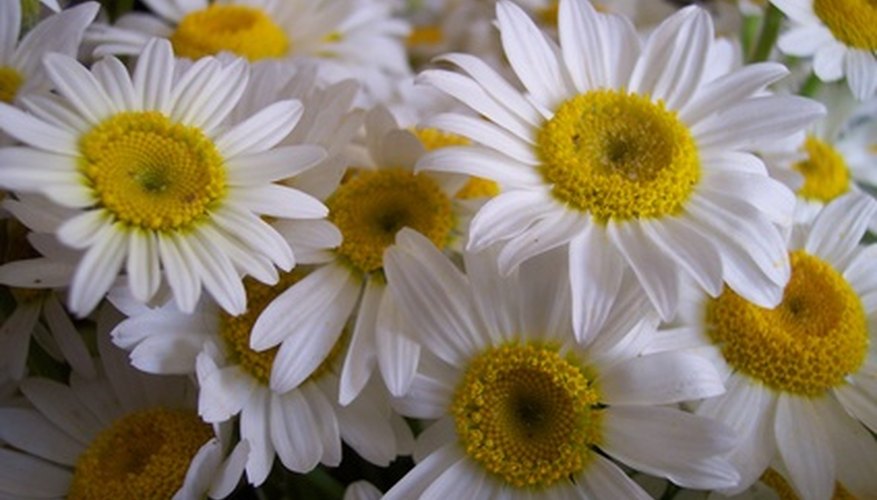 Daisies are classic garden additions, and there are many varieties of them. The daisy family is one of the largest in the plant kingdom, with more than 20,000 species classified within it. No matter which daisy cultivar you choose for your garden, these hardy perennials are sure to please.
Painted Daisy
Painted daisies belong to the Asteraceae family. They are low-maintenance perennials with dark green foliage and flowers that emerge atop single stems. Painted daisies bloom in early summer in a range of colors including shades of pink and yellow. They are drought tolerant and resistant to heat and humidity. Plant them in a sunny location in sandy soil. Water them when the soil feels dry, taking care not to overwater. Too much water can cause waterlogging, which can lead to wilt.
Gerbera Daisy
Gerbera daisies hail from South Africa. Like most daisies, Gerberas produce single flowers atop long, slightly fuzzy stems. The flowers range in color and include orange, yellow and red. They may have either single or double petals. These daisies will not bloom well in shady conditions, so plant them in a spot where they can receive full sun. They prefer well-drained, sandy soil and regular fertilization. Water them when the soil is dry and allow it to dry out before watering again. Too much water can cause root and crown rot, both of which can kill the daisy plant. Gerbera daisies are popular cut flowers.
Shasta Daisy
Shasta daisies are often confused with the common meadow daisy. These perennial plants can grow to be 3 feet tall with white flowers atop single stems. The blooms last from spring to fall. Like most daisies, Shasta daisies are easy to care for and require little maintenance. Plant them in well-drained soil in an area of full sun. Place mulch 2 inches deep around the plant and water thoroughly. The long stems of Shasta daisies make them common cut flowers.
Globe Thistle
Although the name would speak otherwise, globe thistle is actually a daisy. It is characterized by bristly leaves and circular flowers. The blooms may be white or, most commonly, bluish purple. Globe thistle is easy to care for and maintain, and requires little more than soil and water. After the last frost, plant the seeds in an area that receives sun or partial shade. Water them during dry spells or periods of drought. Stake the plant as it gets taller and begins to fall over. Globe thistle may need to be replaced every four years or so.