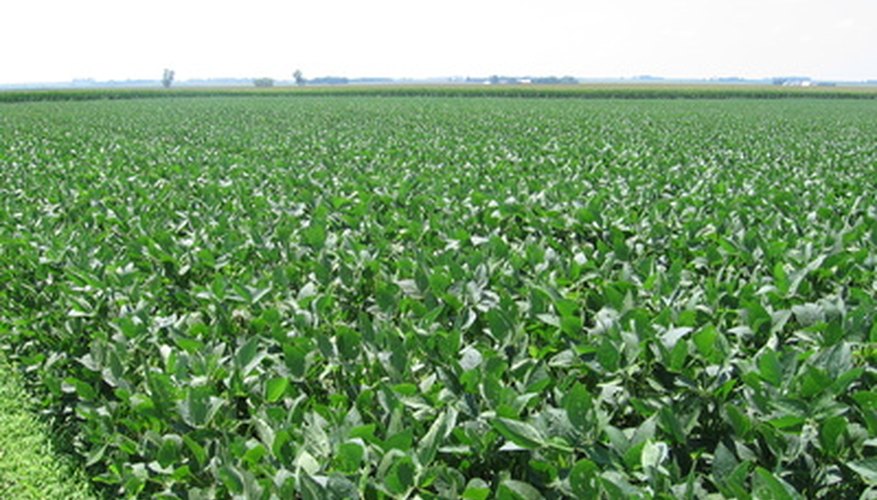 Phenylurea herbicides are used to kill broadleaf weeds, such as chickweed, clover and goldenrod. They may be applied on the soil or foliage, and the toxins are not translocated out of treated leaves. By inhibiting photosynthesis, these selective herbicides kill the entire plant.
How They Work
Phenylurea herbicides are photosynthesis inhibitors. This means they shut down the process plants use to produce food binding to specific sites within the plant's chloroplasts. When the process shuts down, the plant slowly starves. Symptoms of a successful treatment include yellowing leaves, dying leaves and finally death. When plants take up a phenylurea herbicide through their roots, the herbicide is then moved throughout the plant through the xylem. When the herbicide is applied directly to the plant's foliage, it is less mobile and remains in the leaf tissue.
History
The first phenylurea herbicide was introduced in 1952 by DuPont under the common name monuron, according to Robert Irving Krieger in the "Handbook of Pesticide Toxicology." Since then, many derivatives of N,N-dimethyl-N'-(4-chlorophenyl)-urea have been manufactured and distributed.
Danger to Environment
Phenylurea herbicides remain in the environment long after use. They are highly persistent, according to research published in the January/Februrary 2002 issue of "Journal of Planar Chromatography," and misuse or carelessness (as well as leaching) can lead to surface, ground and drinking water contamination. An article from the World Congress on Engineering and Computer Science 2010 notes that phenylurea herbicides "have been detected in wastewater treatment plant effluents and raw drinking water sources in concentrations that exceed the drinking water quality value proposed by the European Union." These levels can pose toxic and carcinogenic risks to humans and animals.
Common Phenylurea Herbicides
Linuron, sold under the brand name Lorox, is used to kill weeds among soybean, corn, cotton, potato, bean, pea, winter wheat, asparagus, carrot and fruit crops. Tebuthiuron, sold under the brand name Spike, is used in grass pasture, non-cropland and sugar cane. It controls weeds such as chickweed, mullein, alfalfa, clover, bluegrasses, dock and goldenrod.
Other Phenylurea Herbicides
Other phenylurea herbicides include anisuron, buturon, chlorbromuron, chloreturon, chlorotoluron, chloroxuron, daimuron, difenoxuron, dimefuron, diuron, fenuron, fluometuron, fluothiuron, isoproturon, methiuron, methyldymron, metobenzuron, metobromuron, metoxuron, monolinuron, monuron, neburon, parafluron, phenobenzuron, siduron, tetrafluron and thidiazuron.