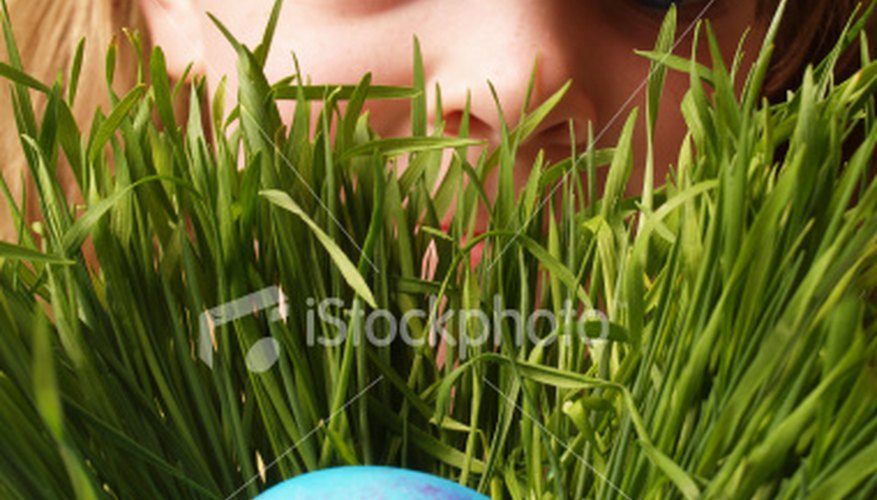 Easter egg hunt games make Easter exciting. All age groups enjoy the thrill of hunting for eggs and winning prizes. A little planning makes Easter egg hunt games enjoyable. Ask participants to give back the plastic eggs at the end of the Easter egg hunt games, to recycle for future games.
Easter Basket Hunt
Hide an Easter Basket in a difficult location. Write the number 5 on a plastic Easter egg. Write a clue to the location of the basket on a small strip of paper. Hide the egg. Get another plastic egg. Write the number 4 on it. Write down a clue to the location of the egg labeled number 5 on small strip of paper. Place the clue in the egg with number 4 on it. Hide egg number 4. Repeat until you have the starting egg to give to the child.
Give the child the starting egg. Instruct the child, they hunt for their Easter basket based on the clues they find inside the Easter eggs. Use more than 5 eggs for a longer hunt, if appropriate for the child's age level.
Color-Coded Easter Egg Hunt Game
Invite friends and family to a yard Easter egg hunt. Purchase plastic eggs of different colors. Place one small token prize inside each egg. Temporary tattoo, individual sticker, miniature eraser, miniature self-inking stamp and an individual jelly bean make good token prizes for each egg.
Depending on the ages of the children in the group, select different colors eggs for each age group. Hide the eggs around the yard. Use the colors to determine difficulty in finding the eggs. For example, yellow eggs are for toddlers. Hide yellow eggs in plain sight. Green eggs are for teens. Hide green eggs in mailboxes, tree branches, inside bushes and other challenging places. Instruct the parents and children to hunt only for the egg colors in their age group. The prizes for this Easter Egg Hunt game are the items inside the individual eggs.
Word Easter Egg Hunt Game
A word Easter egg hunt game is suitable for middle school and higher age ranges. You can even play the word Easter egg hunt game with adults. Purchase a large quantity of plastic eggs. Write one letter of the alphabet on small strips of paper. Write plenty of vowels. Place one or two strips of paper inside each egg. Hide the eggs around your yard or home.
Players hunt for eggs and gather in one location when done. Give each player a pencil and sheet of paper. Each player opens the eggs they found. Players form words from the letters inside the eggs. Write the words on the sheet of paper. Set a time limit. The player with the most number of words wins the game. Give an Easter-themed prize.