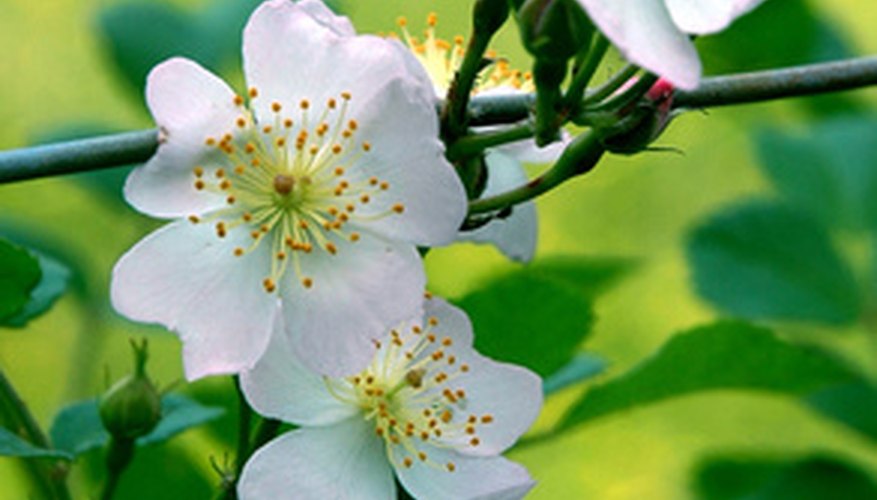 The 'Wedding Day' rose is a fast-growing, exceptionally fragrant rambling rose that was introduced in 1950. It is often called English 'Wedding Day' rose, rambler rose or Rosa 'Wedding Day' by gardening aficionados around the world. Outside the garden, 'Wedding Day' roses are frequently used in cut flower bouquets.
Description
Yellow tinged or peachy color buds open to creamy white, five-petal single blossoms with bright yellow stamens when the 'Wedding Rose' plant blooms once during the mid-summer months. In some instances, the flowers are blushed with just a hint of pink. The foliage on a 'Wedding Rose' remains glossy and deep green throughout its growing season. In the United States, it is hardy in planting zones 7 through 9.
Uses
Capable of growing 20 feet in a single season, the 'Wedding Day' rose is ideal for covering a building wall, fence, pergola or arbor. Since it grows so large, you want to be certain the structure can support its weight. It is often planted to climb sturdy trees and unsightly poles. Since the 'Wedding Day' rose has minimal thorns, it is appropriate for use as a ground cover along pathways.
Growing Conditions
Full sun is the main requirement of the 'Wedding Day' rose. While it will tolerate partial sun, the blossoms will not be as prolific. This rose plant takes to almost any type of soil including clay or heavy, moist, well-draining or light.
Planting
As a fast-growing rambling rose, the 'Wedding Day' rose plant needs a thoroughly prepared site. It should be tilled to the depth of its container and a two to three times its width. Like any rose plant, the addition of several inches organic matter into the soil is good suggestion. In addition, several inches of mulch will help retain soil moisture. The 'Wedding Day' rose plant should be spaced 12 to 15 feet apart.
Maintenance
Frequent watering is needed, especially during the first year of growth when the 'Wedding Day' rose plant is getting established. It requires very little pruning. All you really need to do is remove any suckers that appear from below the soil line. If you don't perform a soil test, a complete inorganic fertilizer, applied according to manufacturer's instructions, is recommended by Ohio State University.