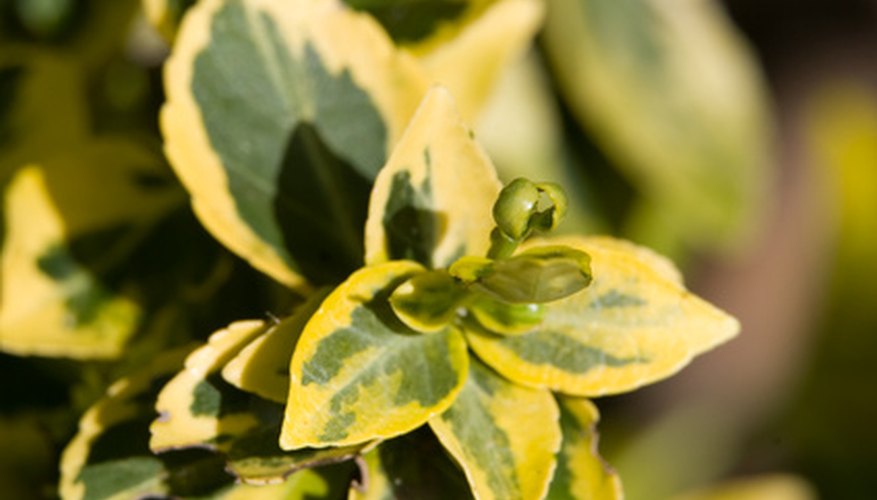 When most people think of a lemon, they think of the classic oblong yellow citrus fruit that is sour and highly acidic. There are some varieties that have yellow and green leaves and fruit. Variegated lemons were developed through cultivation of bud mutations in 1911 at the Chase Eureka lemon grove in California, according to the University of California at Riverside's Citrus Variety Collection.
General Classes
There are two general classes of variegated lemon plants. One are lemon plants that have variegated leaves only. The other are lemon plants that have variegated fruit. The second type usually also has variegated leaves. The fruit from these two types of trees is as usable as from any other lemon tree.
Locating Trees
Variegated lemons are not commonly grown commercially. These plants, especially trees with variegated fruit, can be hard to find. If you can't find them in your local nurseries, ask if the nursery can order the trees. If they have no source, a number of nurseries with websites will ship nationwide. When ordering a tree from another state, speak with them first to find out if the tree will grow outdoors in your climate or will need to be grown in a container.
Types
There are a number of types of variegated lemon trees. 'Citrus Pink' is a variegated lemon plant that has highly variegated fruit with pink flesh. Another variegated fruit lemon plant is the 'Pink Eureka.' This plant also produces lemons with variegated yellow and green skin and pink flesh. Some cultivars of the 'Pink Eureka' have variegated leaves, but yellow fruit with pink flesh.
Purpose
Variegated lemon plants, both with variegated leaves and variegated fruit, are usually planted for ornamental value. They are unique and unusual trees that are not very common. Slices from variegated lemon fruit can add unusual visual interest to drinks and dishes. The pink flesh of these lemons can also make uniquely colored drinks like pink lemonade.
Warnings
If you live in a zone colder than U.S. Department of Agriculture hardiness zone 9b, you will need to grow your variegated lemons in pots. Lemons will suffer damage if exposed to temperatures lower than 25 degree F. If you live in zone 9b and are expecting unseasonably cold temperatures, cover your plants with plastic to help hold the heat in during brief cold snaps.