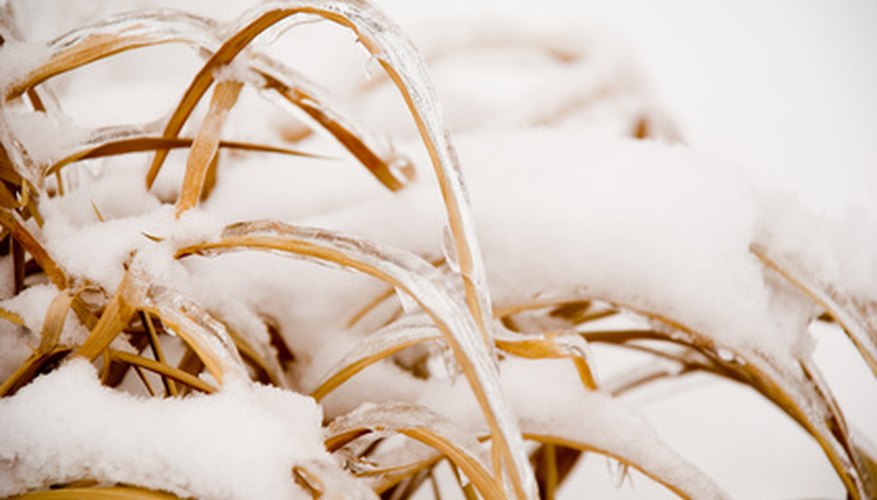 grass in winter image by studio vision1 from Fotolia.com
Ornamental grasses need to be tough to survive the vagaries of temperature and moisture during harsh northern winters. Located in one of the country's coldest climates, the Minnesota Landscape Arboretum has conducted trials of several ornamental grass varieties with successful outcomes. Gardeners in USDA plant hardiness zones 3 and 4 who are fond of the informal, fluid look that ornamental grasses provide need not be envious of their southern counterparts and their pampas grass.
Types
An alternative to pampas grass, although not as showy, is the 8-foot tall ravenna grass (Erianthus ravennae) that is hardy to USDA zone 4. For zone 3 gardens, Terry Yockey of Nothern Gardening.com recommends using red flame miscanthus (Miscanthus var. purpurescens) for its white plumes and bright red autumn foliage. Feather reed grass (Calamagrostis a. 'Karl Foerster') is a grass hardy to zone 4 that has a 5-foot columnar shape and wheat-colored flowers in July. Elijah blue fescue (Festuca glauca 'Elijah Blue') has blue foliage and is 6 inches tall.
Native Species
Adapted to the climate, native ornamental grasses are logical choices for northern gardens. A North American native that is hardy to zone 3, switchgrass (Panicum virgatum) has blue-green foliage and delicate flower spikes. The Minnesota Landscape and Nursery Association recommends prairie dropseed (Sporobolus heterolepis), a mounding grass that grows to 2 feet, and little bluestem (Schizachyrium scopularium) with its bluish foliage changing to red in the fall. Northern seaoats (Chasmanthium latifolium) is a zone 4 native grass with pendulous, oat-like plumes.
Shade Grasses
Mary Meyer, author of "Ornamental Grasses for Cold Climates" recommends native sedges (Carex species) for shady areas. Treated as ornamental grasses although they are not, sedges are low and mounding with narrow blades in shades of yellow or green. Also a native, tufted hair grass (Deschampsia) has 2-foot tall foliage with its flower spikes reaching 2 feet above the grass.
Culture
The care of northern ornamental grasses is no different than that of varieties in warmer climates. Although ornamental grasses tolerate shade and poor soil, most varieties prefer full sun and well-drained soil. Watering deeply once a week is crucial during the first year. Once the plants are established, they are drought tolerant and require little maintenance beyond cutting back the foliage from the previous year and a light dose of all-purpose garden fertilizer in early spring. Divide large plants before the new growth begins.
Winter Preparation
In northern climates, the gardener may want to plant ornamental grasses such as miscanthus types in more sheltered areas of the yard. Reliably hardy grasses such as switchgrass and northern seaoats are more flexible in adjusting to winter temperatures. Mulch around the clump with leaves, grass clippings or straw after the ground has completely frozen. Leave the dried foliage intact as extra protection.
Uses
Use northern ornamental grass varieties such as red flame miscanthus and feather reed grass for the backbone in an island bed. Deschampsia varieties are great for the middle of the border. Use blue fescue for its color and height to edge a path or at the front of the border. Try ornamental grasses in containers for the patio or walkway. Grasses that grow 3 to 4 feet are ideal, such as northern seaoats. Prairie dropseed and little bluestem can bring a meadow effect to a sunny area. Annual grasses work as well. Although fountain grass varieties won't survive northern winters, red fountain grass (Pennesetum setaceum 'Rubrum") grows fast and has burgundy foliage and red-tinged plumes.
Microclimates
Microclimates defy the temperature criteria of the hardiness zone within which they fall. According to Cornell University Extension, a microclimate may be a small area of a yard or several miles wide. A lake will keep the surrounding area warmer while the cold settles more readily into a valley. Planting ornamental grasses in northern climates can surprise the gardener. A zone 4 grass such as feather reed grass may survive in a warm microclimate in zone 3. Conversely, this grass in a zone 4 microclimate may not survive zone 3 temperatures.