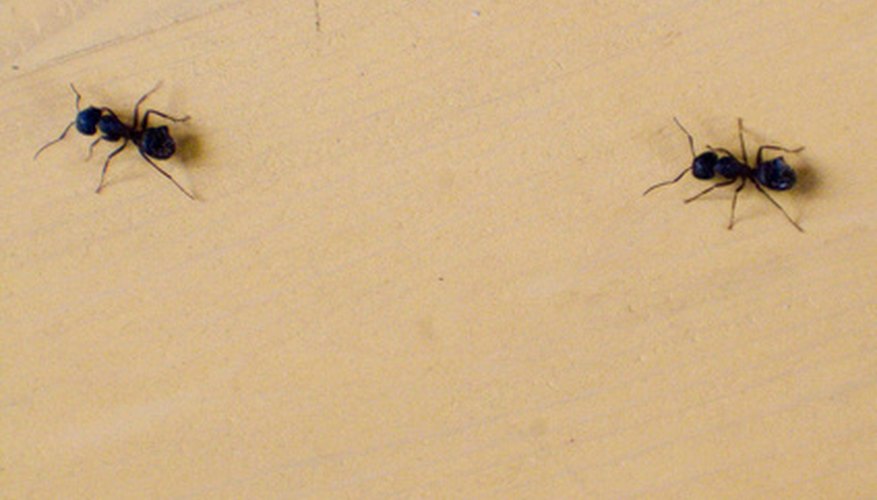 In nature, ants make their colonies and live in communities. But when they enter a home, they become pests, especially since some have a mean bite. There are ways to prevent and control an ant invasion without chemical insecticides. When looking for a natural way to treat an ant problem in and around your home, you can use herbs.
The Problem
Ants may enter a home and build nests in crevices at the base of walls, in cracks or behind cabinets and appliances. In most scenarios, they become a nuisance when they come out in search for food. Carpenter ants may actually cause structural damage to a home.
Cinnamon
In a California State Science Fair project experiment conducted by Caroline C. Ho and cited by the University of Southern California, cinnamon was tested and determined to be the strongest natural, environmentally friendly herbal repellent to ants. Black pepper also mildly repelled some of the ants.
Garlic
You can repel ants in and around your home with garlic. According to Bastiaan M. Drees, associate professor of entomology at Texas A&M University, a garlic water product is registered with the Environmental Protection Agency for the treatment of ants and other pests. A simple way to make garlic water is to crush eight to 10 cloves of garlic and let them sit in a gallon of water for at least 24 hours.
Other Herbs
Ants may also be repelled by other herbs that have a strong scent. Since ants use scent for direction and to find food, these herbs can throw them off course. Sage, calamus, tansy, chili pepper, red pepper and peppermint are some herbs that can repel ants. Texas A&M University also notes an herbal ant-repellent formula called Pyrenone Crop Spray contains numerous herbs for repelling ants. Some of these herbs include basil, fenugreek, bay leaf, wormwood, marigold, thyme, cumin, chives and catnip. Together, these and other herbs in the formula create a strong scent that is intolerable to ants.
Controversy
According to the University of Minnesota, there is no proven scientific evidence herbs have an effect on repelling ants, and the best way to control an infestation is to locate and kill the queen of the ant colony with an insecticide. But Texas A&M University researchers have cited two herbal formulas that are effective in ant control--the Pyrenone Crop Spray, which combines several herbs including basil, catnip and chives; and garlic water.