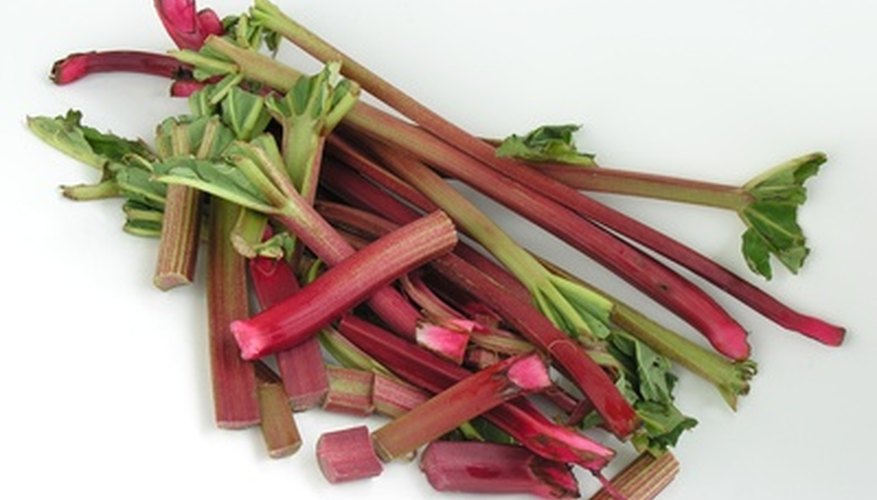 Rhubarb is an easy-to-grow, perennial vegetable that is prized for its tart, vibrant flavor. It has many culinary uses, including pies, preserves and breads. Its leaves are not edible due to their high concentration of oxalic acid. Instead, it is cultivated for its stalks. While it is growing, the leaves provide colorful foliage interest in a garden. Care is uncomplicated and relatively easy in most gardens. If you are planning to plant rhubarb, make sure to give it space, as it can grow quite large and quickly take over the area in which it is growing.
Apply a good all-purpose fertilizer in spring, as soon as the soil is soft enough to work. Follow package instructions for application, as different manufacturers and fertilizers work differently.
Weed whenever plants require it, especially with new rhubarb plantings. Remove the roots of any weeds you dig up to make sure they do not grow back.
Mulch to a depth of 2 to 3 inches. Make sure not to push the mulch up directly against the base of the plant. Mulching helps to ensure even soil temperature, discourage weeds and maintain even moisture.
Water during periods of extremely dry weather; rhubarb plants require soil with good drainage and do not like being soaked, but should not be allowed to dry out.
Apply fertilizer again in June, after plants have finished most of their vigorous growth for the season.
Apply 3 inches of compost in late fall, before the first hard frost of the season. Avoid pushing the compost up directly against the bases of rhubarb plants.