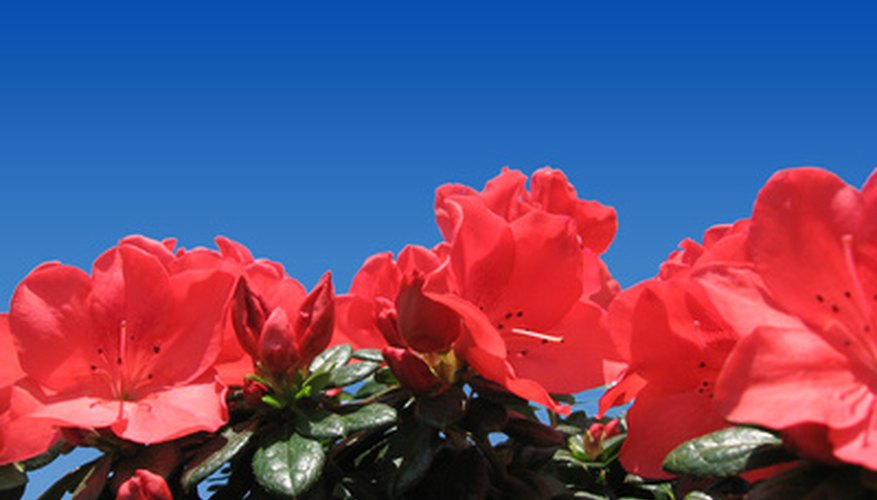 Native to Japan, evergreen azaleas are foundation plantings in millions the spring gardens. More than a dozen evergreen azaleas species containing hundreds of hybrids are available, advises Kathie Carter of the University of California at Riverside's Botany Plant Sciences Cooperative Extension. Many of these azaleas are hardy to USDA plant hardiness zone 7a and lower, handling winter temperatures of less than 5 degrees Fahrenheit.
More Info about Hardiness Zones
Evergreen Azalea 'Autumn Royalty'
Hardy to zone 6 , where winter temperatures approach minus 10 degrees F, evergreen azalea (Rhododendron) 'Autumn Royalty' grows between 4 and 5 feet tall and up to 4 feet wide. An erect, rounded bush with dense branches of non-glossy green leaves, it blooms in April or May. Its single, purple trumpet-shaped blooms may return--in smaller numbers--between late summer and early autumn, notes the Missouri Botanical Garden. Like most azaleas, Autumn Royalty performs best in partial shade and fertile, acidic (pH below 6.8), consistently moist well-green soil. The shrub benefits from eastern or northern exposure.
Evergreen Azalea 'Hino-Crimson'
'Hino-Crimson' evergreen azalea Evergreen Azalea (Rhododendron) 'Hino-Crimson' tolerates cold to zone 5 and temperatures near minus 20 degrees F. A low shrub, it grows from 2- to 4-feet high, with an up-to-5-foot spread. Small--one-half to 1¼-inch, glossy deep green leaves contrast attractively with Hino-Crimson's dense clusters of crimson, April and May blooms. Autumn foliage has hints of bronze, according to the Missouri Botanical Garden. A number of pests and diseases affect this plant and most azaleas. They include root rot, powdery mildew, aphids, scale and thrips. Suitable growing conditions, including well-drained, moist acidic soil, decrease Hino-Crimson's vulnerability to the problems.
Evergreen Azalea 'Mrs. Henry Schroeder'
Hardy from zones 5 to 7, evergreen azalea 'Mrs. Henry Schroeder' stands a compact 18- to 36-inches high, with an equal spread. Its clusters of pinkish-purple, 2-inch flowers open in May above deep green, glossy oval leaves. Like all azaleas, this is a shallow-rooted plant. It suffers from cultivation around its feet and benefits from moisture-retentive organic mulch, advises the Missouri Botanical Garden.
Evergreen Azalea 'Martha Hitchcock'
A slowly growing plant reaching up 4 feet high and wide over 10 years, evergreen azalea 'Martha Hitchock' tolerates winter temperatures in zones 5 through 8. An April or May bloomer, it has dark green, elliptical foliage that becomes yellow in fall. Martha Hitchcock's flowers have white petals edged and splotched with purple. The single, funnel-like blossoms appear in groups at the ends of its branches. This azalea likes a spot away from heavy winter winds, according to the Missouri Botanical Garden.