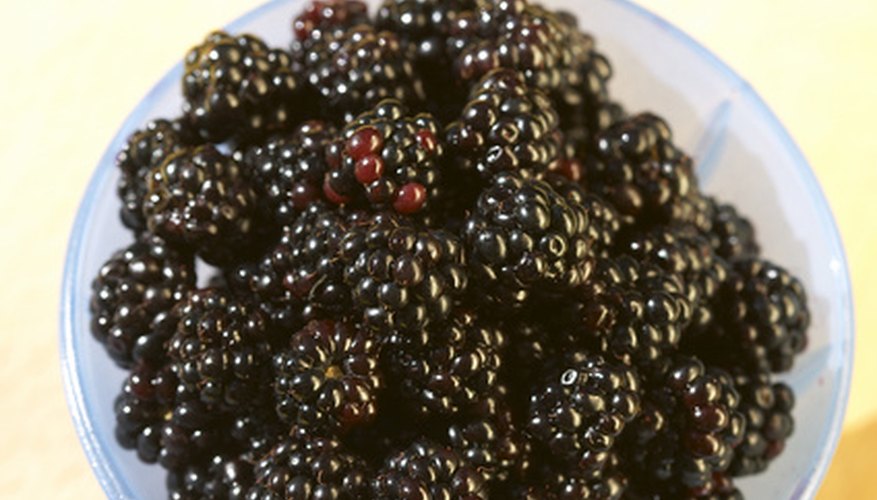 blackberries image by AGphotographer from <a href='http://www.fotolia.com'>Fotolia.com</a>
Blackberries are one of the world's best-loved homegrown fruits. They grow in the wild or can be planted in your garden. Blackberries are delicious for making pies and wine or eating straight from the bush. Unfortunately, some blackberry varieties are prone to disease. These are some of the more hardy varieties that have proven to be the most disease-resistant.
Hull Blackberries
One of the best varieties of blackberries for being disease-resistant is the Hull. This blackberry is thornless, grows vigorously and is of a very high quality. Hull blackberries ripen during the last of June up until the beginning of July. These blackberries are not fully erect and need a trellis for support.
Natchez Thornless Blackberries
The Natchez thornless blackberry is also very disease-resistant. There have been no records of this variety being susceptible to disease. This plant produces very large berries that ripen in early June. The fruit is of good quality and flavor and does have a long storage life. Since this variety is not the most erect growing, it is best to allow these plants to grow on a trellis.
Arapaho Blackberries
The Arapaho is another very disease-resistant blackberry. It is also very hardy to winter conditions and is self-supporting. This bush produces large, firm fruits that are full of flavor. Arapahos have one of the longest lasting harvests of all the thornless blackberries.
Gem Blackberries
The Gem blackberry is a disease-resistant thorny variety. This bush produces a large amount of blackberries that are of high quality. They are a semi-trail variety, and it may be more beneficial to grow them on a trellis.
Ouachita Blackberries
Ouachitas are disease-resistant, thornless blackberries. They ripen in mid June and produce a large quantity of sweet, firm fruit. This variety is perfect for market selling, and the berries are medium to large in size. The Ouachita bush is also very erect and does not require a trellis for support.
Apache Blackberries
The Apache blackberry is thornless, disease-resistant and the most erect of all blackberry varieties. The fruits are large and flavorful and reach complete ripening around the third week of June. The fruit is of high quality, and the berries are glossy and cone-shaped. This variety also has excellent hardiness to winter conditions.