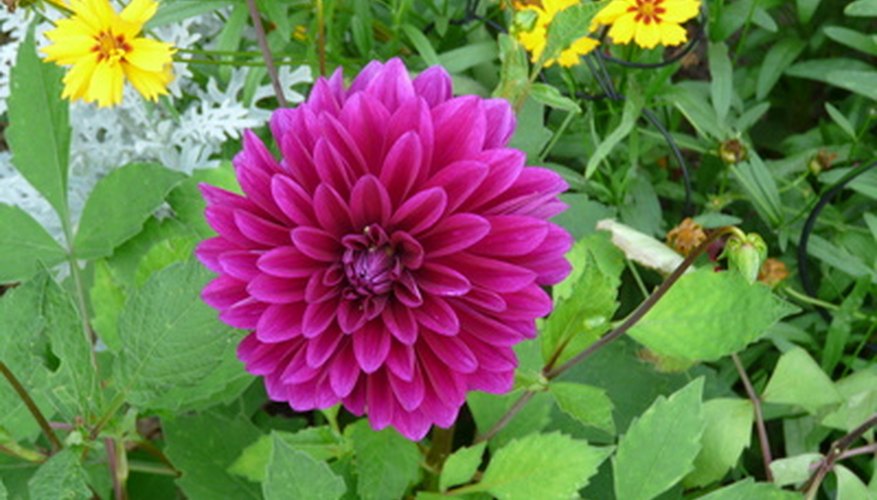 For an attractive burst of late summer and fall color after many other plants have begun to fade, dahlias are a winner. Introduced into the United States in the mid-1800s, the dahlia quickly became a prized flowering bulb. If you give this plant full sun and rich soil, it will reward you with a showy display of many flower colors that make attractive, long-lasting cut flowers.
Wisconsin Red
Coming from Wisconsin in the early 20th century, the Wisconsin red heirloom dahlia has dark red flowers and dark stems. It's the kind of plant that is passed around through family members and friends because it is easy to grow and the 3-inch ball-shaped flowers are attractive. Originally called Catherine Becker for the woman who shared a plant with a customer of Old House Gardens, this dahlia was renamed after a Wisconsin master gardener discovered that another family had previously been responsible for spreading this hearty, prolific dahlia. It is considered very rare.
Union Jack
Like the British flag, the Union Jack dahlia is a known because of its red-and-white candy-cane striped single flowers. It's also called the star of Denmark and its origins have been traced to 1882. Unlike other dahlia varieties that have strong stems, this dahlia has looser, more relaxed stems that preclude it from being considered a good cut flower. This trait occurs in wild species of dahlias, so it is thought that the Union Jack is closely related to native species. The plant reaches up to 3 feet in height and blooms in late summer.
Jersey Beauty
According to the website Fine Gardening, the Jersey beauty dahlia is the "most celebrated" dahlia of the 20th century, having been introduced in the 1920s. Plants can reach as tall as 6 or 7 feet and they produce large numbers of pink flowers. The plants are vigorous and the hand-size blooms make good cut flowers. The more you cut, the more flowers will appear. The Old Farmer's Almanac website says this variety "brings great energy to the fall garden."
Kaiser Wilhelm
This antique dahlia was introduced in 1892 and is only one of three remaining varieties from the 1800s, which is quite a feat, considering perhaps 10,000 varieties of this flowering plant were introduced during that era, according to the Fine Gardening website. The flowers are 3 inches across and sport curled petals in tones of custard yellow with burgundy tips. It grows as tall as 5 feet. The National Dahlia Collection of Great Britain lists a red variety of Kaiser Wilhelm.