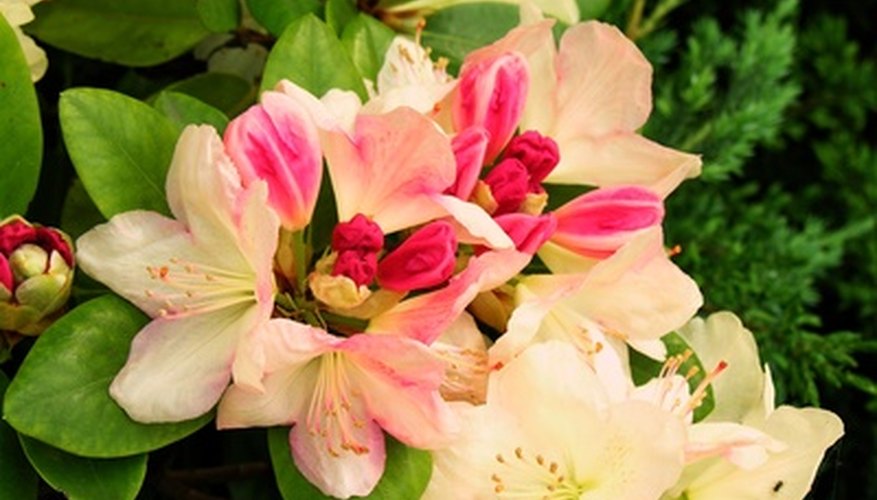 Evergreen azaleas (Rhododendron spp.) comprise hundreds of varieties of shrubs known for their springtime flowering displays. Maryland has ample rainfall and fertile soils for growing these plants. The only limiting factor is the extent of winter cold, as the extreme high mountains in the western panhandle may not be best for retention of foliage. Elsewhere in the state the shrubs grow well since they are in U.S. Department of Agriculture Hardiness Zones 6 and 7.
Beltsville Hybrid Azaleas
In 1950, the USDA in Beltsville, Maryland, began breeding evergreen azaleas that bloomed early to midspring and often had low, spreading plant growth habits. Varieties in this group survive winters no colder than zero degrees F. Names of some varieties include, Dainty Rose, Eureka, Guy Yerkes, Polar Bear, Pequeno, Pinkette, Snowdrop, Casablanca Improved and Whitedoll. Overall, Beltsville hybrid evergreen azaleas ornamentally resemble Glenn Dale hybrid azaleas.
Glenn Dale Hybrid Azaleas
The USDA's Plant Introduction Station in Glenn Dale, Maryland, began an extensive hybridizing program in the 1920s through the 1940s to develop evergreen azaleas with large and variably colored flowers, good cold hardiness and would bloom across the entire month of May, according to the Sonoma Horticultural Nursery. Bred to withstand winter lows down to zero degrees F, expect some leaves to nonetheless drop if winter is unusually cold. There is variety among the different Glenn Dale hybrid azaleas, leaf sizes differ as do the many flower colors. Examples of varieties include 'Anchorite,' 'Aphrodite,' 'Buccaneer,' 'Everest,' 'Geisha,' 'Glacier' and 'Martha Hitchcock.'
Robin Hill Hybrid Azaleas
Developed in the 1930s in New Jersey, Robin Hill hybrid azaleas are hardy down to winter low temperatures to 5 to 10 degrees F. These grow best in Eastern Maryland near the Chesapeake Bay or Atlantic Ocean. These evergreen azaleas tend to bloom in midspring or a bit later in the season. Many varieties of these plants retain the name Robin Hill in their names to make it easy to identify them at a nursery. Varieties include 'Nancy of Robin Hill,' 'Robin Hill Gillie,' 'Robin Hill Wendy,' 'Lady Robin,' 'Betty Anne Voss,' 'Conversation Piece,' 'White Moon,' 'Hilda Niblett' and 'Gwenda.'
Gable Hybrid Azaleas
Gable hybrid evergreen azaleas are among the most cold tolerant around, as they were bred in Pennsylvania and have parentage including species Rhododendron kaempferi and Rhododendron yakushimanum. These shrubs tend to bloom heavily in midspring and are hardy to winter lows no colder than zero degrees F. In particularly cold winters, plants may be slightly deciduous. Names of some varieties of Gable hybrid azaleas are Caroline Gable, Herbert, Fashion, Louise Gable, Pioneer, Purple Splendor, Purple Splendor Compacta, Rosebud, Corsage and Rose Greeley.
Encore Azaleas
Developed in Louisiana, the encore azaleas are the result of crossing Southern Indica and Kurume evergreen azalea types. The primary feature of encore azaleas is their reblooming autumn after a primary flowering display in early to midspring. Because these azalea shrubs are bred from less cold-hardy parent plants, consider using them in landscapes where winter temps never drop below 5 to 10 degrees F. Encore azaleas should be grown only in extreme Eastern Maryland along the Chesapeake or on the Delmarva Peninsula protected from winter winds.