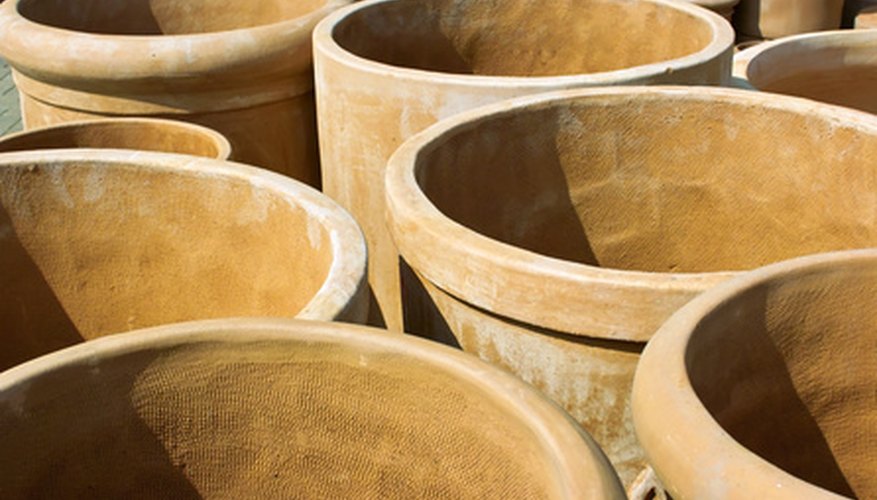 terracotta pots image by david hughes from <a href='http://www.fotolia.com'>Fotolia.com</a>
Terracotta flower pots are easy to decorate. You can create any mosiac design that you want, and then use grout to finish off the look. Your mosaic design can be made with anything you happen to have on hand. This could include pieces of broken glass, stones, fake jewels, beads, and even seashells. If you have more than one terracotta flower pot, you may want to get your kids to create a mosaic piece of art at the same time.
Lay newspaper out over your workspace, setting your terracotta flower pot down in the middle of the paper. Surround your flower pot with the items with which you will make your mosaic design.
Read the ceramic tile grout product label and prepare the grout accordingly. Most grouts need to be mixed with water. You will want to wear a pair of plastic gloves while doing this. (Ready-to-use tile grout is easily available if you want to skip the mixing process.)
Dip your knife in the grout and begin spreading a layer of it on your terracotta flower pot. Do this much the same way you would if you were icing an cake.
Stick the items you chose to create your mosaic on to the grout on the terracotta flower pot. Making Mosaics recommends placing your items 1/8 to 1/4 inches apart, but any design you want will work.
Spread more grout on your terracotta flower pot so that you get the grout in between your decorative items. The goal is to get the grout even with the decorations you chose.
Use a damp sponge to remove any grout you got on your decorations.
Wait for the grout to dry before you use your new mosaic flower pot.
Things You Will Need
Newspaper

Pieces of broken glass

Stones

Fake jewels

Beads

Seashells

Plastic gloves

Ceramic tile grout

Knife

Sponge
Warning
Watch out for sharp edges when using broken pieces of glass.
References