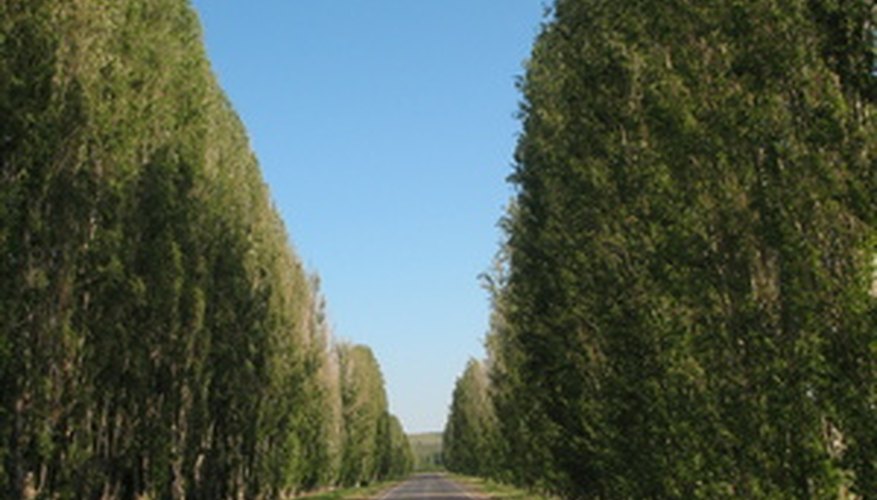 Trees are a major presence in the garden and offer shade, comfort and ornamental value. Waiting for a tree to reach its ultimate height can be frustrating; many gardeners are eager to enjoy the beauty a full-grown tree has to offer. Gardeners can choose to cultivate trees known for growing rapidly to quickly get the effect they're looking for.
Royal Empress Tree
The royal empress (paulownia) is a deciduous flowering tree that reaches a maximum height of between 40 to 50 feet. The spread of the tree is similar, making it a good choice for a summer shade tree. The royal empress tree grows extremely fast, an average of 10 to 15 feet a year. The royal empress is characterized by its large, glossy leaves and showy flowers, which bloom in early spring and have a jasmine/gardenia-like fragrance. The tree is adaptable to a range of soil types and is moderately drought0tolerant. For best results, plant the royal empress tree in full or partial sun in USDA zones 5 to 11.
Royal Poinciana
A native of Madagascar, royal poinciana (Delonix regia) is a flowering member of the bean family that reaches an average of 30 to 40 feet. The tree has an impressive canopy, which may be wider than the tree is tall. Royal poincianas grow quickly -- about 5 feet a year. They are notable for light green, fern-like leaves and spring- and summer-blossoming flowers, which are varying shades of brilliant red. Royal poinciana will grow in loamy or well-draining soils, in pH ranging from alkaline to acidic. The adaptable tree is quite frost sensitive and requires full sunlight in USDA zones 10 to 12. Though drought-tolerant, the royal poinciana will look better with regular watering during the summer.
Lombardy Poplar
Lombardy poplar (Populus nigra 'Italica') is a upright tree that has a unique, column-shaped habit. The tree grows to be between 40 to 60 feet high, with an average growth of about 8 to 10 feet a year. The spread of the tree is usually between 10 to 15 feet. The fast-growing tree is often planted next to others of its kind, where it can act as an attractive, Mediterranean-style privacy screen or wall. The Lombardy poplar is adaptable to range of soil types in USDA zones 3 to 9. Plant the poplar in partial or full sunlight, and water during droughts.