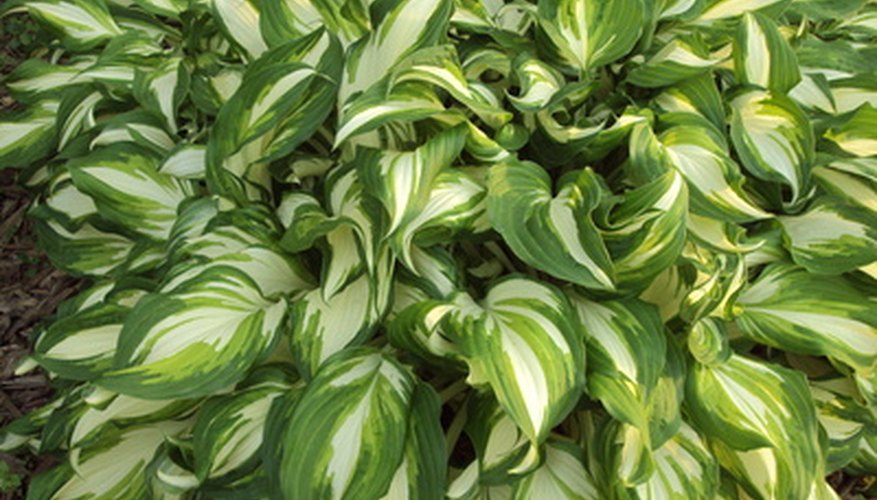 Hosta image by Michele Maakestad from <a href='http://www.fotolia.com'>Fotolia.com</a>
Hostas' colorful and textured leaves create a lush ground cover for both structured and natural gardens. While most hostas prefer the cooler temperatures of shady locations, a few varieties thrive in full-sun exposure. Hostas are generally low-maintenance plants with good resistance to disease and pests. When planting hostas, consider their size at maturity, and space your plants accordingly.
Sum and Substance
This hosta is hardy to U.S. Department of Agriculture Hardiness Zones 3 to 8. Sum and Substance reaches a height of 2 to 3 feet, with a leaf spread of 3 to 5 feet. Its lavender blooms emerge in August and sit atop scapes that reach 38 inches in height. Sum and Substance will thrive in full sun or partial shade. If growing in full sun frequent watering is necessary, but you'll be rewarded with a bright, gold-colored leaves that the sun accentuates. This hosta is both snail- and slug-resistant, and is often used as a garden border or to keep weeds away with its dense foliage. The Sum and Substance hosta has won the American Hosta award multiple times.
Birchwood Parky's Gold
The Birchwood Parky's Gold hosta is hardy to USDA Hardiness Zones 3 to 8. It reaches an average height of 1 to 1 1/2 feet tall with a leaf spread of 2 to 2 1/2 feet wide, featuring golden-chartreuse foliage. The lavender-colored blooms appear in July and August atop 38-inch scapes. Birchwood Parky's Gold thrives in sunlight, providing it is watered often. It prefers a well-drained soil and is resistant to garden pests such as slugs and snails. It attracts hummingbirds.
Longipes
The Longipes hosta is also hardy to USDA zones 3 through 8. This hosta is much smaller than other varieties, only reaching a height of 9 inches to 1 foot and spreading its leaves 6 to 9 inches. It blooms in August and September with lavender-colored flowers on scapes of 12 inches high. The Longipes hosta is an excellent choice for adding a splash of color to your gardens late in the summer months. While the Longipes hosta performs well in full sun, it does better with dappled shade, if possible. It prefers rich, fertilized soil that is kept moist during the growing season. When watering this hosta, pour the water directly onto the soil and not the leaves of the plant. Unlike many other hosta varieties, the Longipes is not resistant to slugs and snails, which can cause extensive damage to the leaves quickly if not eliminated.