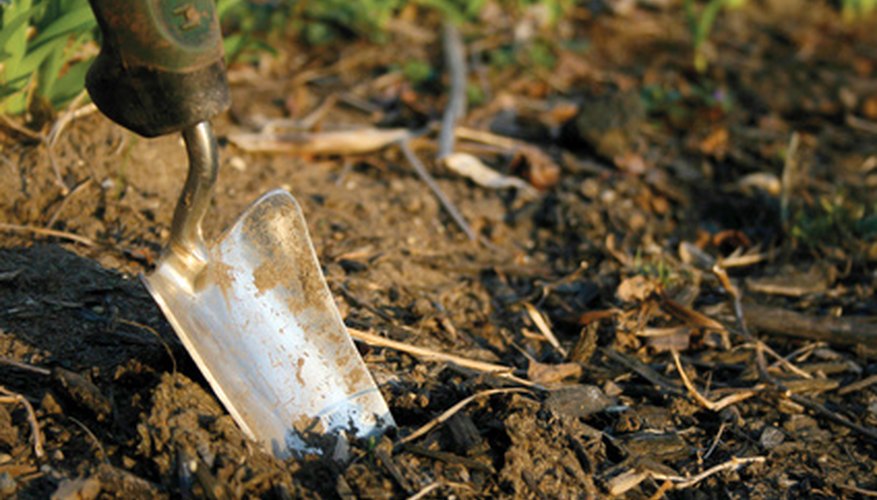 Whether you are planting a vegetable garden or putting a maple tree into your yard, the planting process is very similar. Giving plants a healthy start is the first step to ensuring that the plant thrives in your soil. Planting is more complex than just digging a hole and inserting the roots of a plant. Proper planting involves preparing the soil to receive the plant as well as nurturing the plant while it establishes roots.
Dig a one quart soil sample from up to 10 spots around your planting location with a soil auger. Mix the soil and allow it to dry in a bucket before collecting one cup of soil in a plastic sandwich bag. Take the soil to your county extension service. An agent at the service will help you to send your soil sample to a soil laboratory for analysis. A soil analysis will determine the soil structure and pH as well and recommending good soil amendments to enrich your soil.
Prepare your bed by breaking up your soil to a depth of 12 inches with a cultivator such as a rototiller. Spread the soil amendments recommended by the soil test over your soil in the recommended quantities. In general, soil benefits from a 4-inch layer of compost, peat moss and composted manure as well as sulfur to lower the pH of your soil or lime to raise the pH.
Mix the amendments into the soil with the rototiller.
Open a planting pocket for your plants that is twice as wide as the root ball. Most planting pockets should be the same depth as the root ball. Plants such as citrus trees that are prone to root rot should be planted slightly shallower to promote good drainage. Plants such as vegetables planted in summer should be planted slightly deeper to protect the plants from summer drought.
Inspect the plant for signs of damage, including broken plant stems and diseased or broken roots. Prune away any damaged or diseased plant parts.
Place the plant's root ball into the planting pocket and fill in around the sides of the root ball with soil.
Water the plant well to keep the soil as damp as a wrung-out sponge until the roots of the plants become established.
Mulch around the plant to help keep moisture in the soil and keep from allowing grass to establish itself in the soil. Grass and weeds that grow around your plants can steal moisture, sunlight and nutrients that your plants need.