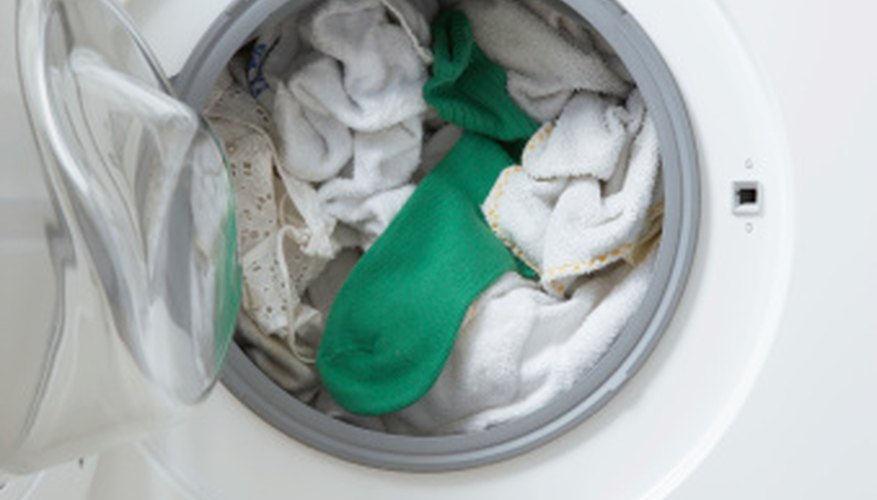 Martin Poole/Lifesize/Getty Images
In a washing machine, there is a motor that drives the washing cycles, and there is a transmission which controls the speed at various stages of the wash cycles. Over time, the oil that lubricates the transmission becomes dirty. In order to ensure a long life of your washing machine, change the oil periodically. If the operation of your washer deteriorates, changing the transmission oil can help. Maintenance instructions like this are applicable to most common brands of washing machines.
Remove the washer transmission from the washing machine motor.
Loosen and remove the oil drain plug on the body of the transmission housing with the adjustable wrench. Look for the obvious, six-sided bolt. Remove the bolt in an upright position as oil drains from the hole after removal.
Drain the oil from the transmission housing into an appropriate container for disposal later on.
Fill the housing to the top with SAE 90 weight gear oil in the same hole you previously drained. Keep the oil drain/fill hole upright and fill the transmission completely.
Replace the oil drain/fill bolt and tighten with the adjustable wrench.
Replace the transmission in the opposite order as you disassembled it.
Things You Will Need
1 pint SAE 90 weight gear oil

Adjustable wrench

Container for waste oil
Warnings
Ensure the power cord to the washer is not plugged in while performing any maintenance to the washer.

Dispose of the waste oil at any automotive garage or waste oil disposal station.
Resources