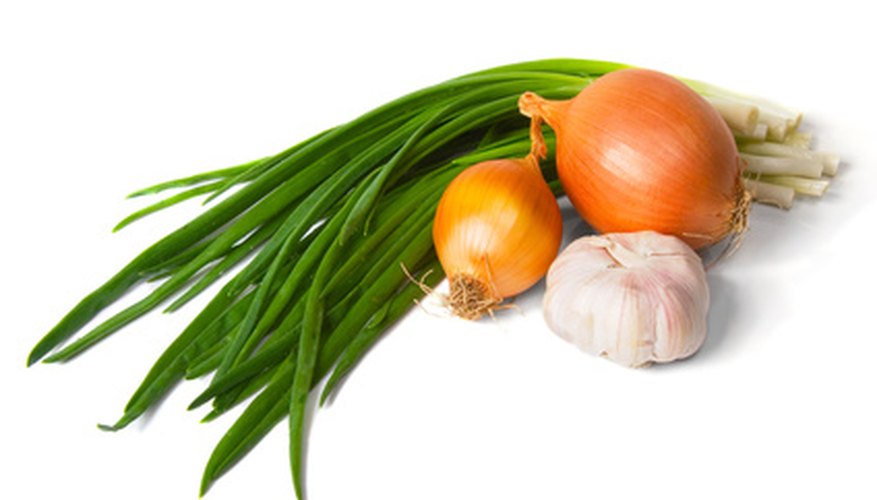 Onions make a good addition to a basic home vegetable garden. Plant them close to your lettuce to discourage rabbits. Even early spring shoots can encourage rabbits to look further for lunch. If you're new to gardening, growing onions from seed may seem like an endless process. In areas with short growing seasons, seed may not be practical unless you want scallions. Onion sets and onion plants are both a faster start for onions. Knowing where each functions best will help you plan properly for your garden.
Onion Sets
Onion sets are second-year onions, sown from seed spread thickly enough and put into the ground late enough in the year that only a small amount of growth takes place before harvest. These penny- to nickel-sized bulbs are dried, stored and shipped to nurseries early in the spring. Started in cool weather, they are certain to produce scallions and possibly full-sized onions, although several factors make full-sized onions a concern.
Problems with Onion Sets
As Brook Elliot, director of the Appalachian Heirloom Seed Conservancy, points out, onion sets are second-year onions. Interrupted in their natural growth cycle, they have a stronger tendency to bloom, bolt and go to seed, especially if prompted by warm temperatures. Onions, being biennials, are programmed to go to seed their second year of growth. Further, Elliot adds, long-day onions, which grow best in northern climates, make the best onion sets. These sets will usually perform poorly in southern climates, where short-day onions do well.
Onion Plants
Sometimes referred to as transplants, onion plants are first-year onions. Like their two-year relations, they undergo an interruption of their natural growth cycle, harvested even before their size would qualify them to be called scallions and shipped rapidly in bunches to gardeners. Onion plants tend to be available in short-day, long-day and day-neutral varieties. Bunches tend to contain 50 to 75 plants.
Problems with Onion Plants
Onion plants are ready to go--or get back to going--as soon as they arrive at their destination. This means timing an order to fit your weather, and probably paying the extra shipping costs to have plants arrive quickly to be in the best condition. Unfortunately, growers are unable to send plants as cheaply as sets. Growing onions from plants may cost you more, onion for onion, than buying them at the grocery store (the gourmet grocery store). Further, those with small gardens do best if they buddy up. If, after all, you have room for six tomato plants and two eggplants, you may have to plant 75 onions absolutely everywhere.
The Good News about Both Sets and Plants
While each form of onion growing has its limits, gardeners should note that onions are much more widely available than they were in the late 1990s. Day-neutral plants, like Candy, make onion growing possible in climates that were previously inhospitable. Even if you split them with your neighbor, growing onions from sets or plants is fun, at least once. Don't pull them all out for the salad bowl--you'll want to see how at least a few do all the way to the end.