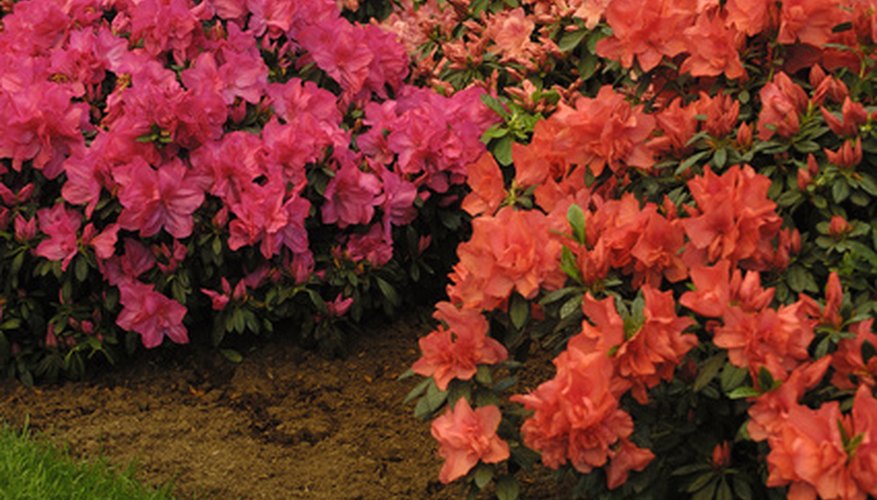 Azaleas do quite well in groups with other azaleas, but variety in a garden is key to keeping it balanced and interesting. Azaleas demand a specific set of growing conditions in regard to soil pH and sun. Be certain that any plants growing nearby can handle the conditions and can stand up to and enhance the spring show that azaleas put on each year.
Acid-Loving Plants
Azaleas need soil with a pH of less than 7 (neutral) to grow, thrive and produce their beautiful blooms in abundance. If neutral- or alkaline-inclined plants are growing nearby, they'll never look quite healthy. Acid-loving plants such as dogwood and magnolia trees, gardenia and hydrangea shrubs, as well as low-growing creeping phlox, heath and Japanese iris do well in the same acidic garden bed as azaleas.
Contrasting Plants
If all of your plants are the same size, shape and color, or if they all grow in the same form, then none stand out. Azaleas are show-stealers, so allow the surrounding plants to play backstage to bring out azalea's beauty. Blueberry plants have a more upright form and tiny white flowers, while Japanese irises provide vertical lines to contrast the rounded azalea bushes. Creeping phlox comes in with cooler-colored blooms that stand out brilliantly against azaleas with hot (reds, pinks, oranges) or intense bloom colors.
Shade-tolerant Low Plants
Azaleas aren't fans of hot summers, so they're often planted in partial shade. If you want low-growing plants or carpets of plants around azalea bushes, they need to tolerate not only the shade over the azaleas but the shade the azaleas will cast over them. Ageratums and acid-loving ferns are patient with low light levels.
Putting It All Together
Ferns under the feet of the azalea will contrast, add perennial interest and tolerate the low shade and acidity. Flowering dogwood trees provide azaleas much-needed shade in hotter climates, bloom at a different time to extend seasonal interest, tolerate acid and are much taller than azaleas. Gardenias handle the shade and love the acidity, and their fragrant white flowers allow almost any azalea bloom color to stand out.