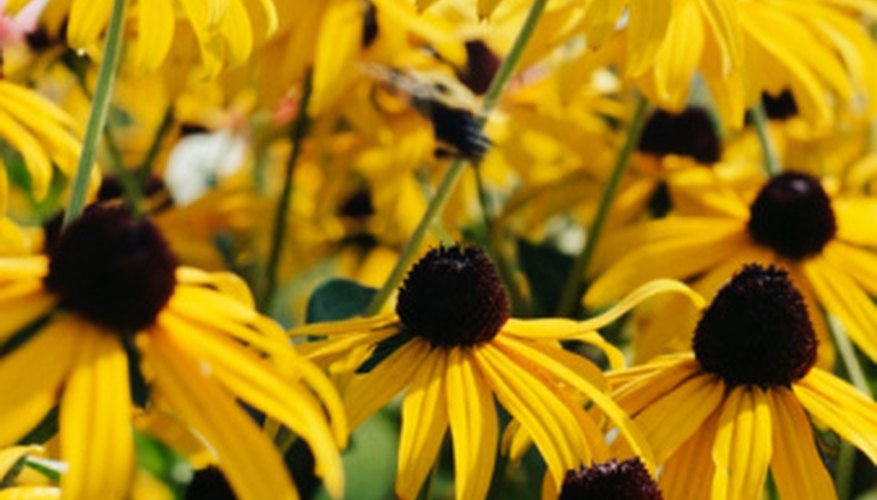 Jupiterimages/Photos.com/Getty Images
Sunflowers, with their bright yellow petals and dark, central cones, are some of the most iconic flowers in the American landscape. Many types of coneflowers mimic the cheerful look of the sunflower, providing a similar look for native flower gardeners.
Recommended Flowers
To achieve the bright, happy look of a sunflower garden, there are several types of coneflowers that make ideal additions or replacements for the traditional sunflower. Some recommended coneflowers include the yellow coneflower, Tennessee coneflower, black-eyed Susan and the eastern purple coneflower.
Descriptions
Coneflowers mimic the look of sunflowers with 10 petals surrounding a large, darker central cone. The yellow coneflower (Echinacea paradoxa) features bright yellow rays and a dark brown center. It grows to an average height of 2 1/2 feet, according the Lady Bird Johnson Wildflower Center. The Tennessee coneflower (Echinacea tennesseensis) is well-known for its purple blooms and is one of the rarest wildflowers. Planting it may help increase the survival of the plant. The black-eyed Susan (Rudbeckia hirta var. pulcherrima) features drooping orange to yellow petals and a dark brown cone that extends above flower's face. The purple coneflower (Echinacea purpurea) is a similar color the Tennessee coneflower but features drooping petals like the black-eyed Susan.
Benefits
Planting coneflowers in the garden helps create the look of a prairie wildflower meadow and also provides medicinal benefits. The echinacea flowers can be used as an antibiotic, according to the Lady Bird Johnson Wildflower Center. Echinacea flowers and the black-eyed Susan attract hummingbirds, butterflies and other birds to the yard.