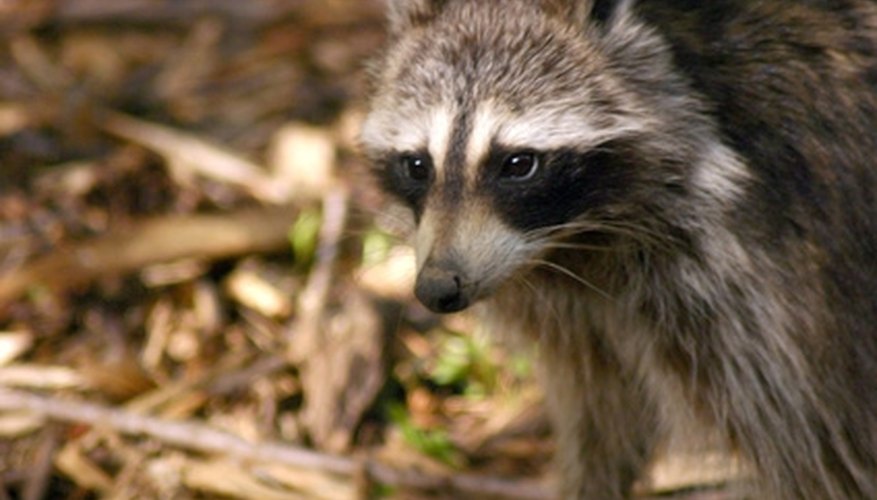 raccoon image by pixelcarpenter from <a href='http://www.fotolia.com'>Fotolia.com</a>
Few things are more discouraging that spending weeks tending to the garden only to awake one morning and discover a hungry animal has devoured all your hard work. The most common culprits are deer, rabbits, groundhogs and raccoons, but chipmunks, squirrels and moles can wreak havoc with the garden, as well. Preventing hungry critters from making a feast of your garden requires some knowledge of their habits and a handful of tricks to keep them out of your garden.
Erect a fence to prevent animals from entering the garden area. Johnathan Rhea, director of the Jefferson County Extension at the University of Tennessee, claims fencing it the most effective means of keeping unwanted wildlife from the garden. Install the fence before wildlife develop a habit of grazing on your plants, for best results.
Install an electric fence to keep raccoons and groundhogs out of the garden. String one wire at a height of 6 inches and a second wire at 12 inches. Deer require a single strand of wire on an electric fence, 30 inches from the ground. According to the University of Tennessee Extension, attaching aluminum tabs to the wire spaced 3 to 5 feet apart and smearing the tabs with peanut butter will attract deer. When the deer touches the tab a mild jolt deters it from making future attempts to enter the garden.
Deter rabbits with a 24- to 36-inch high chicken-wire fence with the bottom of the fence close to the ground level. According to Dr. Leonard Perry, an extension professor with the University of Vermont, burying the bottom of the fence to a depth of 3 to 6 inches prevents groundhogs from burrowing under the fence and entering the garden.
Set live traps to capture and relocate the animals in another area.The University of Vermont Extension suggests checking your local laws and city or town ordinances, as your area may have laws against relocating wild animals. Use caution when releasing any wild animal as it may bite or scratch, exposing your to disease or injury.
Spray plants with a deterrent to prevent damage from animals. Ron Smith, horticulturist for the North Dakota State University Extension Office, recommends preparing a solution with the juice of three hot peppers, 2 tbsp. of vegetable oil, a few drops of dish detergent and few drops of white glue. Mix the solution with 10 parts water and spray the foliage. Repeat after it rains, and as new growth appears.
Things You Will Need
Electric fence

Aluminum tabs

Peanut butter

Chicken wire fence

Live traps

3 jalapeno peppers

2 tbsp. vegetable oil

3 to 4 drops dish detergent

3 to 4 drops white glue

Water

Spray Bottle