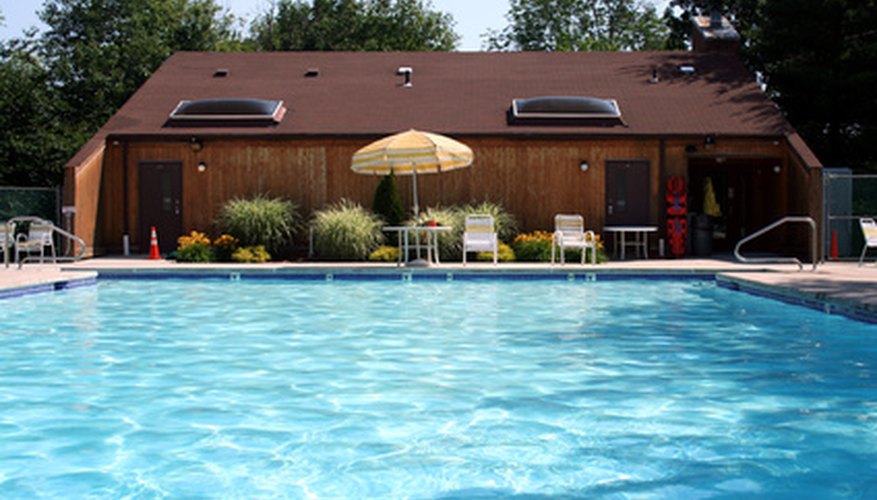 Swimming pool and pool house image by Jim Mills from Fotolia.com
Stamped concrete is a type of outdoor flooring, often found on patios and around pools, that contains a decorative pattern including swirls, plants and other designs. The concrete also contains a sealant that protects the stamped pattern from sun rays, weather changes and dust. The sealant eventually needs replacing to keep the stamped concrete's design from fading. To keep stamped concrete looking like new, the concrete needs dust and grime removed from its surface regularly with an nonabrasive cleaner.
Move tables and accessories off of the stamped-concrete surface.
Mix 1 cup of dishwashing soap and ½ gal. of warm water in a bucket. Wear latex gloves to keep your hands dry.
Stir the soap solution with a nylon bristle brush. Pour the solution onto the concrete. Scrub any heavily-soiled and stained areas with the nylon bristle brush.
Scrub the entire concrete surface with a push broom. Spray the concrete clean with a water hose.
Dry the concrete with a leaf blower or let it air dry for 24 hours before moving furniture and accessories back onto the surface.
Things You Will Need
Dishwashing soap

Warm water

Bucket

Latex gloves

Nylon bristle brush

Push broom

Water hose with sprayer

Leaf blower (optional)
Tips
If applying a sealer to your concrete surface, use a sealer specifically designed for stamped concrete and apply it after the surface has dried for 24 hours. Let the sealer dry for four hours before moving furniture and other accessories back onto the concrete surface.

Apply the first sealer application six months after the concrete has been poured. Then apply a sealer once every two to three years to keep your stamped-concrete looking like new.
Resources