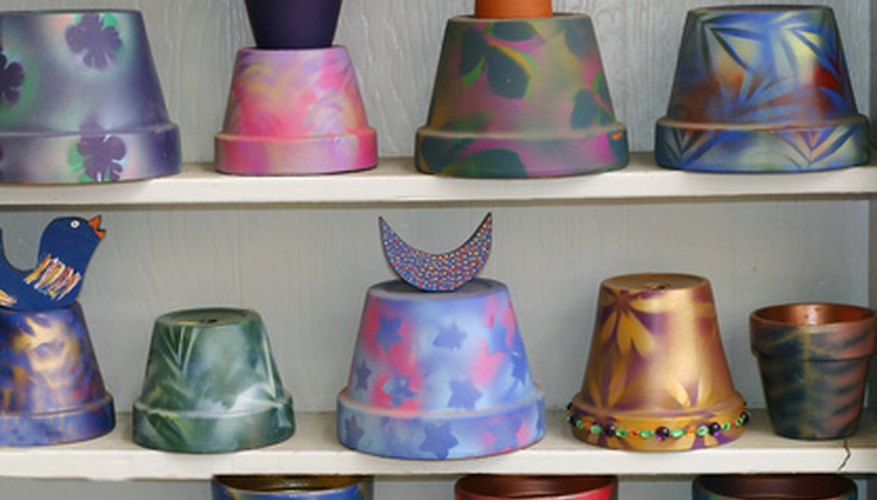 Adding garden ornaments to landscaping, decks, patios or front porches is one way to add personality to an outdoor space. Painted clay pots are ornamental and are a project in which the whole family can participate. Of course, you can plant flowers, vegetables and other plants in painted clay pots, but you also can use them for holding napkins and eating utensils on a garden picnic table. Make a birdbath or wind chime (see resources). Your imagination is the limit to how you can use these colorful pots as garden ornaments.
Painted Clay Pots
Wash and dry the clay pots if they were previously used. Set them in the sun, making sure they are completely dry before painting on them. New pots need to have excess clay dust wiped off of them with a soft cloth.
Give each pot a double base paint coat of any color you like. You may want to complete this step, for younger children, ahead of time. Let the paint dry between coats.
Make stripes. A simple, but decorative way to decorate clay pots is to place painter's tape around them, at different width intervals. Paint different colors between the pieces of tape. Remove the tape and sharp-edged stripes remain. You may also just leave the pots the single color of the base coat. Let the paint dry overnight.
Glue trinkets, such as buttons, shells, stones or tile pieces onto the outside of the clay pots. Let the glue dry overnight.
Spray the clay pots, inside and out with an exterior clear polyurethane sealer, twice. Let the product dry between coats. This type of sealer comes in matt and glossy finish. Let the sealer dry overnight before planting in it or creating other garden ornaments.
Clay pot birdbath
Wipe down the clay pot with a soft cloth. If it has been used previously, wash and dry it thoroughly.
Paint the 16-inch clay pot with a double coat of a single color of acrylic paint. Paint the pot just on the outside. Paint the saucer entirely. Leave them a solid color or paint a design with other colors of acrylic paint. Allow the paint to dry.
Spray a double coat of clear polyurethane exterior sealer on all sides of both clay pieces. Let them dry overnight.
Turn the clay pot upside down on a flat work surface. Spread a heavy-duty exterior glue over the bottom of the pot. Center the saucer, right side up, over the pot bottom. Place a brick or other heavy object on the saucer to weight it down. Allow the glue to dry overnight before placing it outdoors and adding water to the saucer.