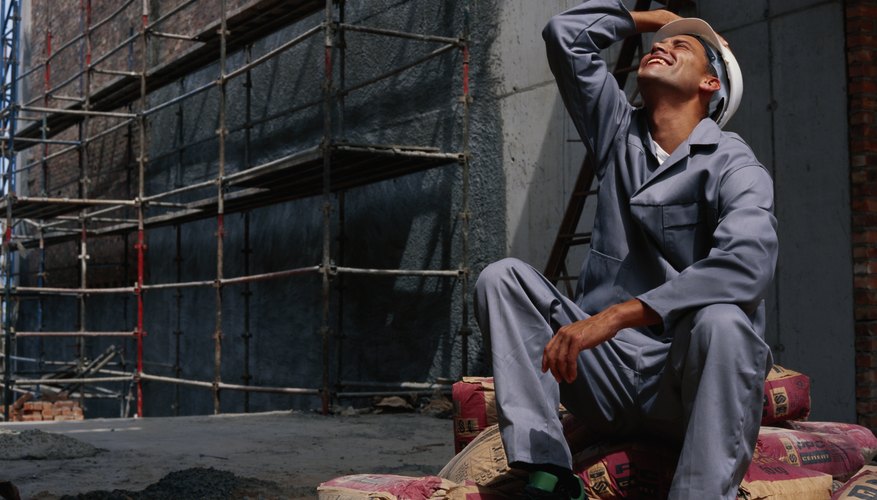 Stockbyte/Stockbyte/Getty Images
Removing Quikrete concrete sealer does not have to be a difficult or expensive process. While you can use a grinder or scraper to remove a layer of old sealant mechanically, chemical concrete strippers are easier to manage. Because most Quikrete sealants are water-based acrylics, you should achieve good results by using a natural, environmentally safe concrete stripper rather than products with harsher chemicals.
Review the specific instructions included with the concrete stripper you purchased. They will likely resemble the steps outlined here, but in the event of any conflict, follow the manufacturer's instructions rather than this guide. In particular, look for specific warnings or recommendations related to safety (including protective gear), as even natural, plant-based concrete strippers can be harmful or damaging if used improperly.
Clear away carpets, furniture and other items to prepare the area where you are removing sealant. Once the entire surface is accessible, give it a quick cleaning with a broom or rag to keep dirt and dust from interfering with the concrete stripper.
Spread the concrete stripper evenly over the sealed surface with a mop, roller or brush.
Dampen some sheets or towels that you don't mind throwing away, and spread them over the stripper. The chemical activity of the stripper depends on it remaining wet, so the moist cloth will help prolong its effectiveness and allow for a more thorough breakdown of the sealer.
Give the concrete stripper plenty of time to work, especially if you are using a natural, plant-based solution, which may take more time than other products. The thickness and age of the sealer can also add to the required working time, and Quikrete sealers containing epoxy or polyurethane rather than acrylic resin will also be harder to break down.
Remove the sheets or towels and clean up the residue resulting from the interaction of the stripper and sealer. You should be able to wipe up the residue with a sponge or mop, although some spots may need a little scrubbing with a stiff-bristled brush.
Let the area dry and look it over to see whether any spots seem to have remnants of sealer. Dab or spray more concrete stripper on these spots and follow the process all the way through again.
Things You Will Need
Concrete stripper

Broom or rag

Old sheets or towels

Mop, paint roller or paintbrush

Sponge or mop

Safety glasses, breathing mask and other protective gear (as needed)
Warnings
Check to see if any laws or waste removal guidelines govern the use or disposal of concrete stripper in your area.

Closely follow manufacturer's guidelines for the concrete stripper you select, and note any warnings or recommendations designed to promote safe, effective use.