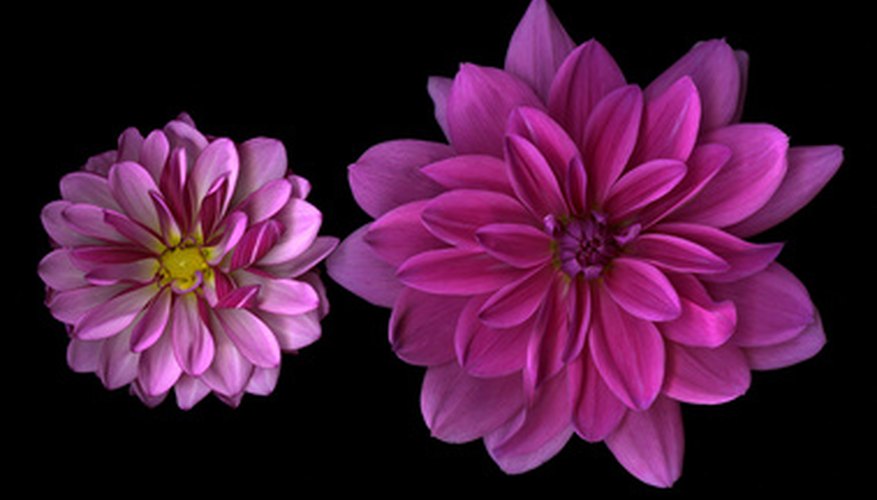 A dahlia is a perennial plant often grown in home gardens. Dahlias are recognizable by their long stems and bushy flowers. Common flower colors include white, red, pink, light purple and gold. According to the University of Florida, dahlias can be grown in USDA zones 7 through 11. If you want to add dahlias to your flower garden, you will need to know how to plant them in spring after the last frost has passed.
Choose a spot in your flower garden to plant dahlias. It should be a spot that receives full sun to partial shade. You also want to make sure that the soil drains well. Otherwise, your dahlias could suffer from root rot.
According to the Garden Helper, the ideal pH for dahlias to grow their best is between 6.2 and 6.5.
Till the location you choose so that the soil is loose. Do this to the top 12 inches of soil to prepare the soil for planting.
Add 3 inches of compost to the soil you tilled and mix with together with the loose soil. Then toss in 2 lbs. of an 8-8-8 fertilizer.
Dig holes that are 8 inches deep, and as wide as the tubular you are planting. You need one hole for each tubular (spaced 2 to 3 feet apart depending on their size). If your tubular is on the larger side, go with 3 feet.
Set the tubular in the hole with its eyes facing up, and then cover it with soil. Pat the top of the soil to get rid of any air bubbles.
Water the soil until moist. Dahlias enjoy consistently moist soil.