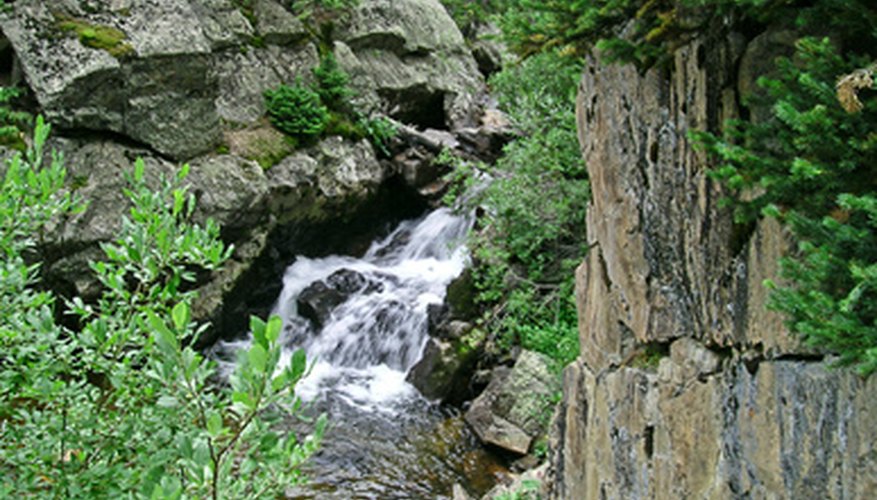 A waterfall enhances a landscape in a number of ways. The sound of falling water masks busy street noises. The movement of the water is pleasant to look at. Birds will come for a drink and even take a bath in the cascading water. Building a waterfall may be hard work, but landscaping the waterfall is the fun part. Plants and flowers help the waterfall blend into the landscaping and look more natural.
Choose plants that have various growing habits. Trailing plants look good growing down the sides of the waterfall and even dipping into the water itself. Ivy is a good choice for shaded areas. Bacopa has small white flowers and oval leaves. Lobelia and sweet alyssum spread in mounds up to 12 inches across and are covered with tiny flowers of blue, white or purple. Upright flowers can include petunias and marguerite daisies.
Decide where you would like the plants. Arrange the plants so they are not symmetrical but the planting looks even from both sides of the waterfall. In other words, don't plant two ivy plants at the top followed by two bacopa plants on either side followed by petunias and then marguerite daisies at the bottom. That is too studied and artificial. Vary the arrangement while keeping it balanced.
Put trailing plants at the top and then alternate plants with a spreading growth habit with those that are upright. Put the largest plants at the bottom perimeter of the waterfall rocks. Resist the temptation to put a plant on the very top of the waterfall. Place it slightly to one side or the other so it doesn't look like a hat.
Place the plants still in their nursery containers where you think they'll look good. Rearrange until you're satisfied with the look.
Remove rocks from the sides of the waterfall to make room for the plants, or rearrange the rocks to accommodate the plants. Be careful not to change the water flow when you do this. Keep the plants out of the direct path of the water or where they will be splashed by the water as it falls.
Put a pot of soil where the rocks have been removed, or use a heavy plastic bag with holes punched in the bottom for water drainage. Adjust the rocks so the pot or plastic bag isn't visible or is barely visible. Plastic bags works well because you can squeeze them in easier than a hard plastic pot.
Put the plants in the pots. Eventually their growth will hide the pot completely, and they'll look as if they're growing naturally among the rocks.