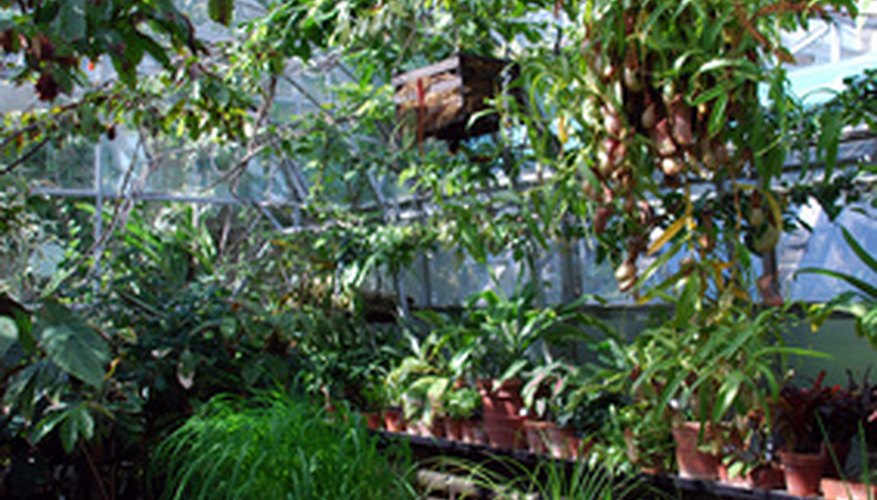 Improving a greenhouse doesn't have to be a time-consuming or expensive task. A few small steps can make a significant difference. Base your choices on how much space you have, what type of plants you choose to grow, whether you plan to start seeds and grow seedlings, and if you plan to use your greenhouse all year round.
Install a heater with a thermostat that gardeners can preset. Provide plants with consistent warm temperatures during the day and consistent cool temperatures at night. While heating systems can be fueled by various fuels including oil, gas, wood or electricity and forced by hot water, steam, hot air or radiant heat, the West Virginia University Extension recommends using a 220-volt circuit electric heater for most setups.
Install fans in the greenhouse on the ceiling to move heat back down to the floor level and to improve airflow. Choose small fans with a "cubic-foot-per-minute air-moving capacity equal to one quarter of the air volume of the greenhouse," according to the West Virginia University Extension Service. For greenhouses under 60 feet long, suspend fans in opposite corners.
Set up shelves, benches and tables to place plants and protect them from the cold of the floor and to assist with drainage. Look for or construct benches, shelves or tables that are 30 inches tall and 33 inches wide to make it easier to work from both sides.
Install fire, carbon monoxide and smoke detectors in the greenhouse to alert you when dangerous conditions arise.
Install grow lights in the greenhouse. Many plants benefit from an extra boost of sunlight during the winter months when days are cloudier and darker. Suspend lights 2 to 6 inches over plants. Seeds and seedlings benefit from closer light exposure, while mature plants may not need light as close.
Add a humidifier to the greenhouse. Some plants thrive in higher humidity settings, yet using a heater lowers humidity. Install a humidifier to raise humidity significantly.