studioportosabbia/iStock/Getty Images
Focal flowers such as roses (Rosa spp.) and peonies (Paeonia spp.) often take center stage in floral planning, but filler flowers can make or break designs. In their simplest application, fillers do as their name implies: they fill in between other, seemingly more important, blooms. But filler flowers – spread throughout an arrangement or added as artful accents – provide the backdrop that anchors a design's tone. Using multiple flower clusters atop single, branched stems, fillers augment arrangements through texture, color and depth. Typically added as the final floral step, fillers finish the statement focal blooms begin.
Airy and Elegant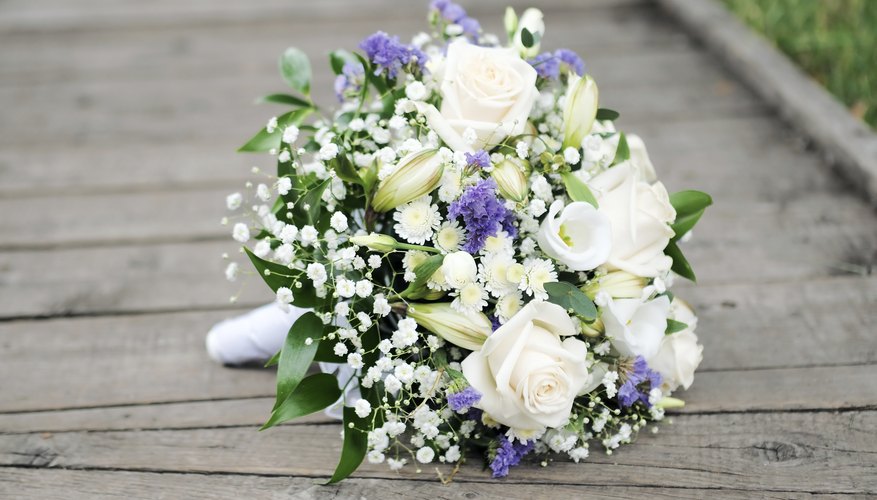 SbytovaMN/iStock/Getty Images
The quintessential filler, baby's breath (Gypsophila spp.) provides time-honored foundations for long-stemmed roses, bridal bouquets and countless floral designs. Also known as gyp, in a nod to its Latin name, delicate baby's breath fills voids with diminutive blooms. For traditional arrangements, place baby's breath so it skims the base of focal flowers, adding depth and dimension while hiding stems. For contemporary stylings, keep gyp and fellow fillers just below the focal tips. Buy baby's breath with pliable, green stems and one-third to one-half of the tiny florets open. Avoid blooms with any signs of brown. Keep baby's breath bouquets away from ethylene-producing fruits in your home – they hasten their demise. Baby's breath filler generally lasts five to 10 days in fresh arrangements.
Strong and Bright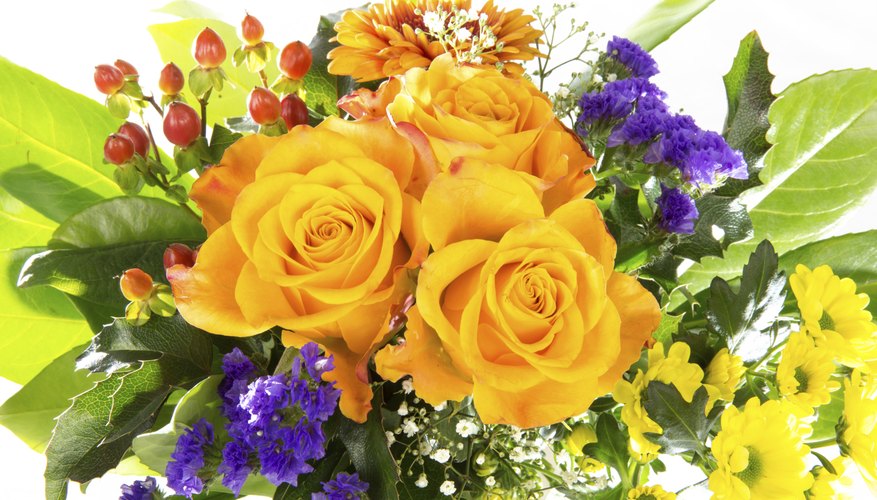 Heinz Meis/iStock/Getty Images
Versatile and resilient, statice (Limonium sinuatum, syn. Statice sinuata) is a filler staple. It varies in color, but deep, purple-blue is classic. The colorful bracts hide this filler's tiny, white, true flowers. Always keep those papery flower heads dry. Statice mixes well with other fillers and all types of focal blooms, enhancing pastels and brilliant colors alike. Cluster statice for dramatic accents or place stems sparingly. Let the arching flower heads sit alongside dominant blossoms. Buy statice with bracts in full color, without any black or brown on its winged stems. Take a deep sniff before you buy, as some varieties have unpleasant odors. In water, statice filler lasts seven to 14 days. Dried statice holds its color for months.
Fragrant and Frosty
LisaIson/iStock/Getty Images
Known for aromatic foliage and silver-green tones, seeded eucalyptus (Eucalyptus spp.) filler pairs an elegant, trailing form with tiny, flower-like seed heads. Also known as eucalyptus flower, this frosted filler delivers texture and subtle movement. Use seeded eucalyptus with its leaves intact as a fragrant, subdued filler, or strip the leaves and let seed heads go solo. Sometimes called "naked eucalyptus," leafless seeded eucalyptus provides a chic, modern alternative to traditional fillers. Buy well-hydrated eucalyptus free from wilted or discolored leaves and enjoy a vase life up to 28 days. Eucalyptus emits a sticky sap when cut or stripped of leaves. Protect sensitive hands from gummy residue by wearing gloves.
Casual and Country
MKucova/iStock/Getty Images
One look at its wildflower origins explains aster's (Aster spp., Symphyotrichum spp.) informal, down-home appeal. Tiny, daisy-like flowers blanket this filler's long, branched stems, providing a thrifty bounty of yellow-centered blooms. Colors range from white and cream to shades of pink, purple and blue. Asters have the height to define design lines, but leave that job to weightier blooms. Let aster fillers do their relaxed, lighthearted work. Buy stems with the first few flowers open and showing color, and avoid anything with yellow leaves. As with all fillers, strip aster stems destined for below the waterline. Aster leaves deteriorate quickly when wet. Depending on variety, the aster vase life runs from five to 12 days.
Bold and Berryful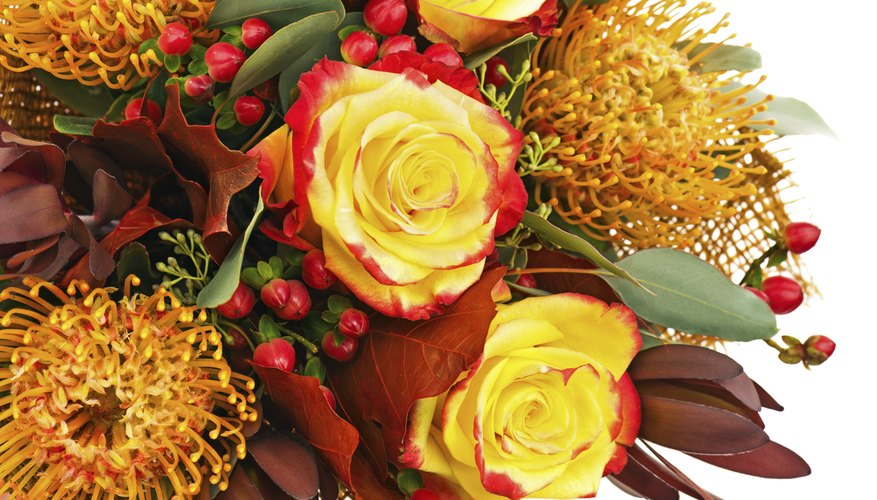 Rodrusoleg/iStock/Getty Images
Commonly known as coffee-bean flower, hypericum's (Hypericum spp.) yellow blooms provide vibrant color, but this filler shines brightest in its fruitful phase. Also known as St. John's wort and tutsan, hypericum fills floral spaces with polished berries. A tiny green collar cradles each one. With varieties from pale, creamy white and apple-green to rich oranges, reds and coffee-bean brown, hypericum fillers back large, substantial blooms beautifully. Use them for added texture and interest without extra weight. Let berries sit high, just below the tips of focal flowers, so the eye-catching filler can't be missed. Shop for flexible, non-woody stems with firm, glossy berries and healthy leaves. Hypericum filler lasts seven to 14 days in fresh arrangements.