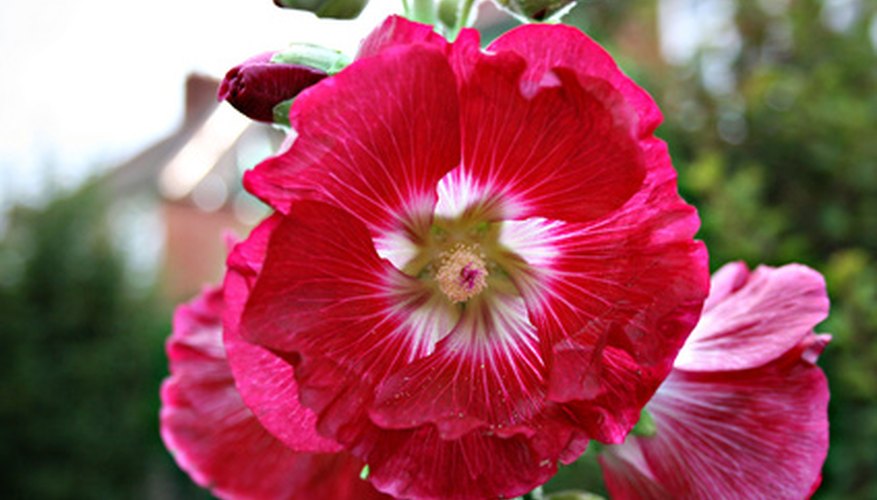 Hollyhocks are one of the favorites for cottage gardens and old-fashioned flower gardens. Although hollyhocks are considered biennial flowers, they often re-seed themselves, making them more like a perennial. These native plants to China are hardy in the USDA Zones 3 to 9. You can start hollyhock seeds indoors about two to three weeks before the last spring frost, as suggested by Floridata, or you have the option of directly sowing them into your garden.
Starting Hollyhock Seeds Indoors
Fill up 3- or 4-inch wide pots with a seed starting mix. The pots should be filled with enough mix so that each is about three-quarters full.
Saturate each pot with water until the seed starting mix is visibly wet. Then use a metal spoon, fork or your fingers to push it down until the mix is firmly settled in each pot.
Plant between two and three hollyhock seeds in each of the pots. Push them approximately 1/4 inch into the surface of the mix using the blunt end of a pencil or a chopstick.
Sprinkle over the top of the hollyhock seeds no more than 1/16 inch of the seed starting mix.
Cover each of the pots tightly with a layer of clear plastic wrap. Use a rubber band to secure the plastic wrap along the rim of each pot if necessary.
Put the pots where it is both warm and full of light. Avoid direct sunlight, but try to provide about six to eight hours of indirect light each day. Keep the seed starting mix moist, peel back a corner of the plastic wrap to spritz the mix with water as needed. At a temperature of between 60 and 70 degrees, the hollyhock seeds will begin germinating in about 10 to 12 days.
Transplant the hollyhock seedlings into your garden when nighttime temperatures remain above 55 F and all further chance of frost has passed.
Starting Hollyhock Seeds Outdoors
Choose a sunny planting site for the hollyhocks. Plan on choosing the site when nighttime temperatures are staying above 55 F.
Lay out a 2- to 3-inch layer of organic matter to improve the fertility and drainage of the soil. You can use leaf mold, plant-based compost or aged cow manure. Mix the organic matter down into the soil to a depth of at least 6 to 8 inches.
Create 10-inch-wide rows in the planting site. Keep each row about 16 to 18 inches apart. In the center of each row, use a chopstick or similar object to poke shallow 1/8- to 1/16-inch holes that are approximately 8 to 10 inches apart.
Plant one hollyhock seed in each of the holes. Sprinkle a very light amount of soil over each of the seeds, about 1/8 of an inch.
Cover the entire area with a fine, gentle mist of water. Check the area daily. Keep the soil in the planting site moist, using a garden hose and a fine mist of water when needed. Germination of hollyhock seeds in an outdoor bed typically takes approximately seven to 14 days.
Things You Will Need
Hollyhock seeds

3 or 4-inch plastic pots

Seed starting mix

Spoon

Chopstick

Plastic wrap

Rubber bands

Spray bottle

Shovel

Rake

Shovel

Soil amendment