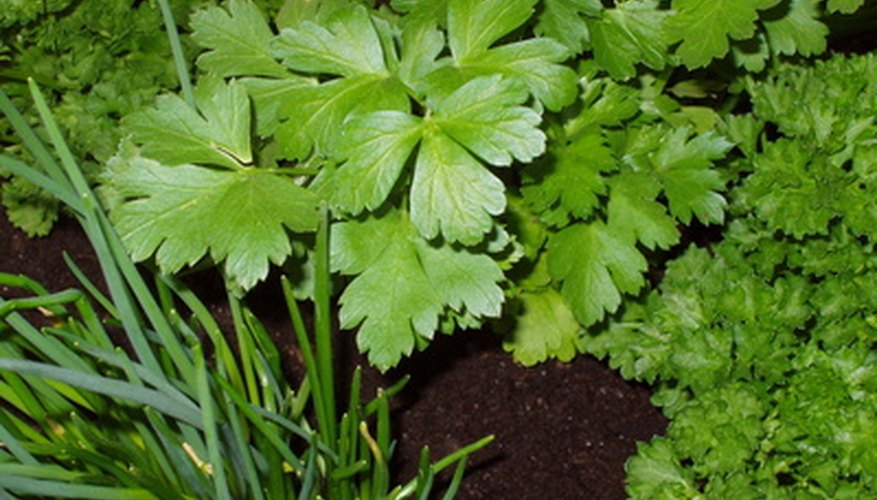 Building a herb planter provides the convenience of harvesting fresh herbs whenever you need to season a savory dish. You can also plant seeds indoors to have a fresh supply long before herbs appear for sale commercially. Building an herb planter also allows you to customize it to your needs. Build it as high or long as you want, and in your desired shape and size. Paint it a bright color so it serves as a decorative asset. Grow a variety of herbs you typically use for seasoning and harvest when needed.
Measure an area where you want to install the herb planter, using a tape measure. Determine the planter's shape, length, height and width and write the dimensions down with a pencil and paper. A rectangular planter that is up to eight inches high and two to three feet wide provides sufficient space to start a container herb garden.
Cut disease-resistant wood to size according to the noted dimensions, using a handsaw. Cut two identical panels for the front and back. Also cut two similar short sides and a base panel identical lengthwise to the front but equal in width to the sides.
Place the planter base on a flat surface and lay the front panel horizontally against it. Align the front so it lies flush against the long edge of the base, and secure it in place with screws drilled every four to five inches. Secure the back to the adjacent side of the base panel the same way.
Lower a short side in the cavity between the edges of the front and back panels. Align its top so it is at the same level as the others panels and drill it in place with screws. Secure the other side piece in the cavity adjacent to this one the same way.
Turn the planter over and drill drainage holes over the base panel. Depending on personal taste, drill 1/2-inch-wide holes randomly across the surface, or in rows spaced equally apart.
Paint the herb planter a bright color to add a decorative feature, using a paintbrush. Allow the coat to dry thoroughly before painting a second coat.
Things You Will Need
Measuring tape

Paper

Pencil

5 wooden panels, 1 inch thick

Handsaw

Drill

Wood screws

Paintbrush

Colored paint
Tips
Use rot-resistant wood such as cedar, oak, pine, redwoods or teak. You can also use plywood sheets, as long as it's one inch thick.

Raise the herb planter so you don't have to bend too low. Cut four blocks of wood to your desired height and attach one on each corner of the base.