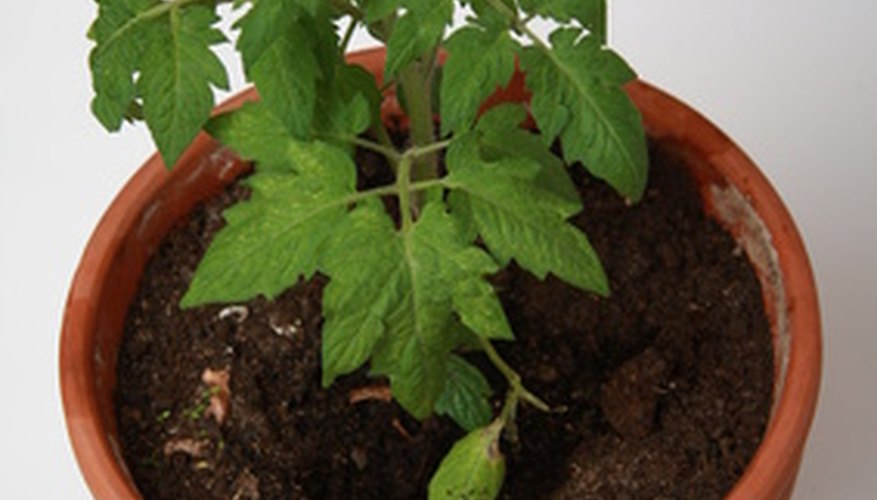 Growing vegetables in containers makes it possible to garden in areas where space is limited or the soil is unsuitable for planting. Although it may be tempting to fill the container with ordinary garden loam, this is not recommended. According to the University of Cornell Extension Office, commercial potting soil or garden loam is too dense for container gardens and may inhibit drainage and prevent proper aeration. The best potting soil for container gardens should be lightweight and porous to promote drainage and prevent disease from soggy soil. Making your own potting medium provides vegetables with the right soil for growing.
Pour equal amounts of all-purpose potting soil, moist peat moss and perlite in a large bin or barrel. Mix thoroughly. Peat moss retains moisture while perlite promotes drainage and provides aeration for growing roots.
Add 4 tsp. of lime to each bushel of potting mixture. Peat moss is acidic and lowers the pH of soil. Adding lime raises the pH.
Mix in 2 tbsp. of super phosphate fertilizer (0-20-0) and one cup of 5-10-10 fertilizer to each bushel of the mixture. Mix well to distribute all ingredients evenly.
Fill containers with the soil mixture and plant as usual. Water thoroughly until water runs free of the bottom of the pot. Place in the desired location.
Things You Will Need
Large bin or barrel

Measuring spoon

Measuring cup

All-purpose potting soil

Peat moss

Perlite

Lime

Super phosphate fertilizer

5-10-10 fertilizer