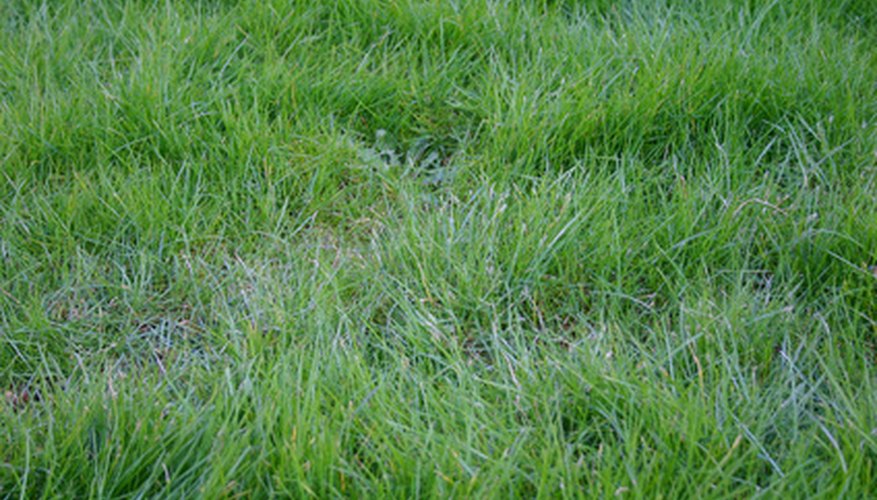 It is discouraging to look out at a lawn that is patchy and has little color, except maybe brown and yellow. Growing beautiful grass requires a lot of extra work, including regular fertilization, proper mowing practice and good irrigation. Some lawns are very hungry and will use all of the nutrients in the soil quickly. If you desire a low-maintenance lawn, choose a low-maintenance grass seed variety, says the University of Minnesota, otherwise there is plenty of work to be done.
Seed areas that are patchy or bare with a certified grass seed and cover the area with straw. Irrigate daily for 10 to 15 days until the seeds germinate, then water at longer, deeper intervals while the grass grows.
Mow the lawn regularly to keep the grass height between 2 and 4 inches, which Utah State University says is the height recommended for most turf grass. Cut grass so that you only remove one-third of the leaf blade at a time to encourage deeper roots, dense foliage and less thatch on the lawn.
Irrigate the lawn so that the soil is moist down to the bottom of the grass root zone. Plunge a spade into the dirt and lift up a small patch to determine the root depth. Irrigate the lawn with 1/2 inch of water then plunge the spade again into the soil, pulling it out to see how far down it is moistened. Adjust the water accordingly and water further to penetrate if necessary.
Fertilize your lawn four times a year, applying fertilizer at 1 lb. of nitrogen per 1,000 square feet of lawn using a drop spreader. Apply in mid-March to April, again in mid-June, again in September, then one last application before the grass goes dormant in November.