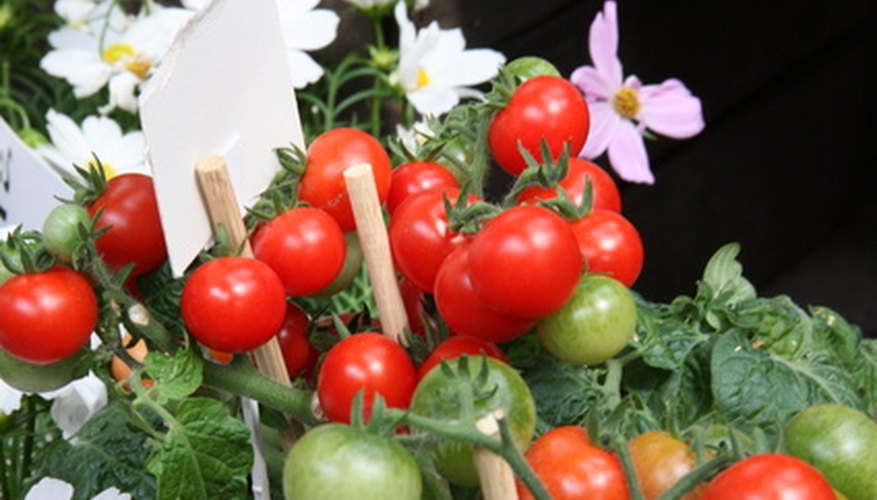 Tomato plants are one of the most popular and rewarding plants grown in the fruit and vegetable garden. Unfortunately, disease and fungus are often a problem and the only option is discarding the plants. However, some other common problems, such as wilting caused from lack of water and damage caused by insects, are reversible and, with some changes, you can save your tomato plants and still reap a good harvest.
Watch for signs of lack of water, such as wilting leaves, drooping stems and lack of fruit. Begin to water tomato plants two times a week with an inch of water. Remove weeds and grass growing within a foot perimeter of each tomato plant. Weeds and grass absorb the water (and nutrients) that your tomatoes need to thrive. Add 2 inches of mulch, such as pine bark, to control the weeds and help the soil retain moisture.
Look for insects and insect damage on the leaves and stems. Be sure to look under the leaves, where many insects are found. Holes, yellowing and curling of the leaves are signs of insect damage. Flick the insects into a pail of soapy water or treat with an insecticide, such as rotenone or Bacillus thuringiensis (Bt).
Fertilize tomato plants with 1 ½ tbsp. of 5-10-10 fertilizer if your tomatoes are not thriving, such as the plants are not producing fruit, actively growing or the fruits are not ripening. Tomatoes are heavy feeders and need not just water, but also fertilizer. Create a 1-inch-deep ring about 6 inches away from each tomato plant's stem. Then evenly sprinkle the fertilizer and cover it with soil. Water the fertilizer in with an inch of water. Do not allow the fertilizer to touch the stem or leaves. Apply the first dosing when the tomatoes begin to fruit and repeat every three weeks.
Remove nearby diseased tomato plants. Look at the stem, leaves and inside of the fruits for spots or discoloration. Any of these signs may be an indication of a disease or fungus, from which tomatoes cannot be saved.