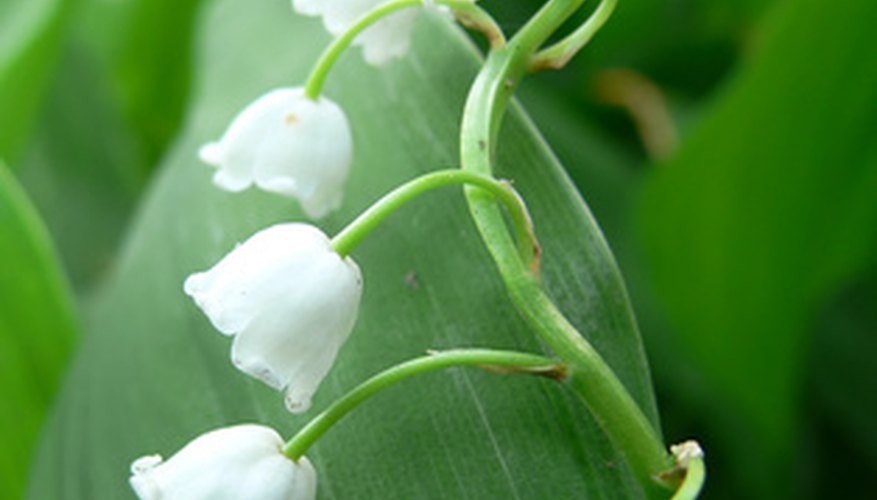 lily of the valley image by Olena Turovtseva from Fotolia.com
The Liliaceae or lily family comprises about 4,000 species of lilies and around 280 genera. "Lily" is synonymous with floral beauty. Less well known is that the members of the lily family have many uses other than creating beautiful garden and vase displays. Their history of culinary and medicinal uses, for example, dates back to earliest times.
Food
The prairie or wood lily (Lilium Philidelphicum) has several common names, including wild orange lily, tiger lily and huckleberry lily. It is native to the northeastern United States and to Canada. It is especially prominent on prairies, and in thickets and open woods. The prairie lily grows from a perennial bulb, reaching a height of between 1 and 3 feet, with clusters of showy, bell-shaped, orange blooms that flower during the summer months. For Native Americans, the prairie lily was a source of boiled, baked or roasted food and also a soup thickening agent. This bright and attractive flower remains a source of food today, attracting hummingbirds in particular to its nectar.
Herbal Medicine
The lily of the valley (Convallaria magalis) is native to Europe, but also grows in North America and Asia. Its other common names include ladder-to-heaven and may lily. This hardy perennial has delicate, fragrant, white, bell-shaped flowers that grow from a creeping underground stem. In 16th century Europe, herbalists steeped the flowers as an antidote to gout and added it to wine to aid the memory. The term "golden water" described these remedies because herbalists kept them in gold or silver containers, reflecting their perceived value. Lily of the valley is also used in a treatment to strengthen heartbeat. Reduction of blood volume and blood pressure are other medical uses of this lily.
Religion
The white lily (Lilium candidum) is native to the Mediterranean. A favored flower in ancient Greece and Rome, early Christians dedicated the white lily to the Blessed Virgin, accounting for its other common name, Madonna lily. Traditionally, the Madonna lily is central to the celebration of the Visitation of the Blessed Virgin on July 2 and its primary use is as a religious floral tribute. According to the van Bourgondien website, the oldest visual images of the Madonna lily date back 3,500 years to the Island of Crete. This website also highlights heirloom bulbs for their high standard of breeding, likely to produce flowers that closely reflect the ancient history of the Madonna lily. The highly fragrant Madonna lily flowers in June and July, thriving in well drained soil, preferably a rich and moist loam.