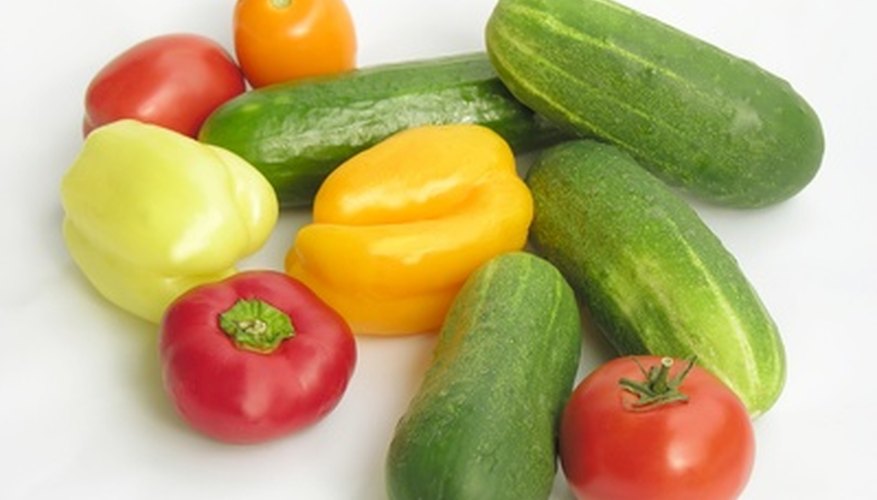 colorful vegetable image by Maria Brzostowska from Fotolia.com
One of the newest trends in small space gardening is growing plants upside down. This different take on hanging planters has the advantage of getting plants up in the air to save floor space for other containers, while still being able to produce full-sized vegetables and fruits. Whether you purchase the pricey planters specifically made for upside down gardens or make your own from recycled materials, you can grow a surprising amount of food without taking up an inch on your deck or patio floor.
Tomato
The first commercial upside down containers advertised as tomato planters, and tomatoes are still one of the most popular vegetables to be planted this way. Tomato vines make an attractive hanging display and adapt well to the change in growing direction. Choose determinate tomato varieties, like Celebrity or Roma, for slightly shorter vines and a more compact shape that does well in hanging planters. Use any of the container varieties such as Tiny Tim or Patio Hybrid for an even smaller plant that is specially developed for growing in containers.
Cucumber
Seed developers have created a large number of cucumber varieties grown especially for container gardening, and all of them do very well growing upside down. These plants have generally shorter vines than regular cucumbers and grow in more of a bush formation. The vegetables that they produce are usually the same size as conventional cucumbers and are often ripe sooner. Some of the better varieties for upside down container gardens are Spacemaster, Salad Bush Hybrid and Picklebush.
Pepper
Peppers can be grown for a variety of uses, from sweet peppers chopped in salads to spicy peppers to give chili its pop. All peppers grow on medium-sized bushes, and they are well-suited for growing in upside-down planters. Peppers need lots of sun and warm weather, so hang these planters where they will get full sunlight as much of the day as possible. Try planting a pepper garden with a large variety including Purple Bell and Chocolate Bell for a color surprise in your next salad, as well as jalapeno and cayenne to dry for spicing up food.
Cantaloupe
Plant a surprise in your upside down planter and grow some small cantaloupes. Some of the hybrid cantaloupes specially developed for container gardening do very well upside down. Their compact growth means that the vines will stay in control without taking over your patio, and the smaller fruit won't be heavy enough to need additional support. Look for smaller varieties like Minnesota Midget or Burpee Hybrid to do well in your upside down garden.