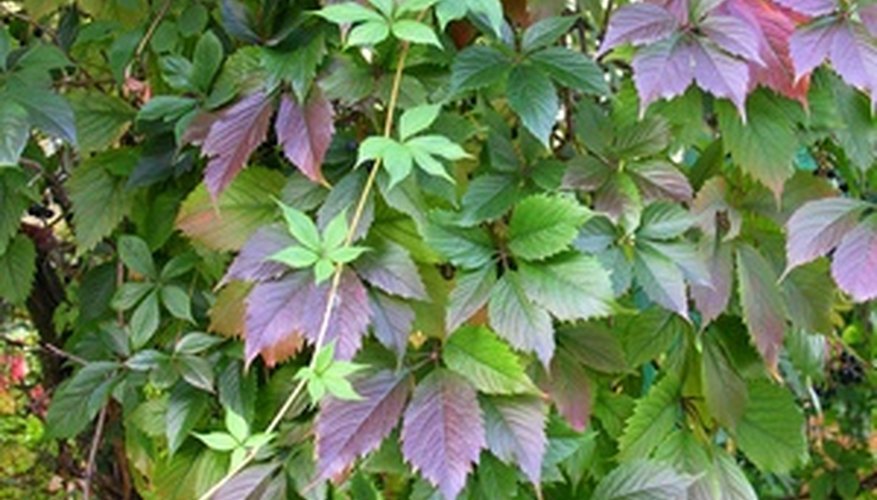 Hummingbirds are attracted by flowers with bright colors and the two plants that are called hummingbird vines fit the bill. The vines have the bonus of attracting butterflies, as they are also attracted to bright colors. When you allow vines to grow tall, they are visible to the birds from far away and bring them into the garden, where they can enjoy the nectar from not only the vines, but the other plants as well.
Types
Trumpet creeper(Campsis radicans) is also known as the trumpet vine and is a member of the bignonia family. The plant likes to climb up a vertical arbor, trellis or a tree and produces horizontal branches as it climbs. Cypress vine (Ipomoea quamoclit) is also known as cardinal climber and star glory and is a member of the morning glory family.
Leaves
The vines of the trumpet creeper measure up to 40 feet long and attach themselves to the surface by aerial roots. Densely-packed, bright-green leaves are made up of seven to 15, oval-shaped feathery leaflets 1 to 4 inches long and 1/2 to 1-1/2 inches wide. The leaf itself measures 4 to 12 inches long. Cypress vine grows up to 20 feet long and produces compound, feather-like leaves, 3 to 4 inches long.
Flowers
Trumpet creeper produces 3- to 4-inch long, yellow-orange to red, trumpet-shaped flowers from late spring or early summer until early fall. The flowers are followed by seed capsules that measure from 4 to 8 inches long. The scarlet, tube-shaped flowers of the cypress vine measure about 1-1/2 inches long with a five-pointed star at the mouth.
Environment
Trumpet creeper is native to the southeast and Gulf Coast. The plant produces more flowers when planted in full sun, but takes partial or full shade. Give the plant a moist, well-drained soil. The vine is hardy in USDA zones 6 through 10. The cypress vine is a native of Mexico and the hottest, tropical areas in the United States. The vine is found growing in the wild in the eastern United States, as far north as Kansas and Ohio. The plant is hardy in zones 6 to 11, likes full sun or partial shade and needs a moist to dry, well-drained soil.
Problems
Trumpet creeper needs space to grow and is recommended for large areas. The vine needs to be trimmed to keep it in check. Aerial roots damage painted surfaces and the plant should not be allowed to climb on a building. Contact with the plant may result in redness, burning and itching. Not everyone experiences the irritation. Cypress vine is a slower grower and is not as aggressive as the trumpet creeper.