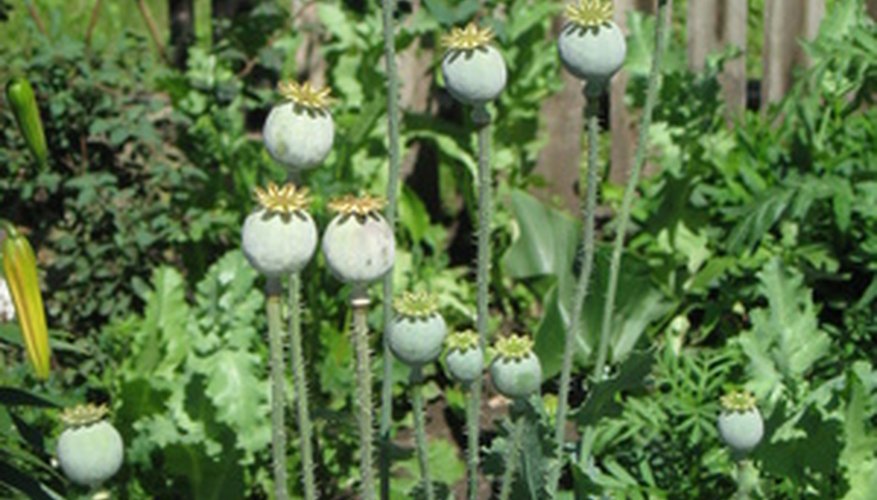 Different poppies grow around the world. The opium poppy, or Papaver somniferum, is one of many poppies. Its seedpods are favored for use in baked goods and dried arrangements. It forms 1-inch round pods after its lavender or red flowers fade. Harvest pods when they turn grey and then dry them in a warm, dark, dry well-ventilated area. Include the long stems if you want to make dried arrangements using your poppy pods.
Plant the Seeds
Poppies reseed themselves readily, so you will probably have additional plants in the area where your poppies grew the previous summer. But you might get too many new plants. To keep the population under control, harvest and dry the pods and then slit them open to collect the seeds. You can plant them in your own garden or share them with friends.
Make Baked Goods
Each poppy pod contains hundreds of tiny seeds. If you grow the Papaver somniferum, its seeds are preferred for poppy seed bread, bagels, muffins and other baked goods such as cakes. They can cause a false reading of a drug test, so keep this in mind if you will be applying for a new job that requires drug testing.
Make a Dried Arrangement
Because your poppies will form seedpods late in summer, fall is a good time to harvest them, dry them and use them in fall-themed dried arrangements. Combine a few pods with miniature pumpkins and some colorful fall leaves for a Halloween party centerpiece, or use them for your Thanksgiving decorating. Mixed with holly, pine boughs and other plants, either fresh or dry, poppy pods add interest to Christmas centerpieces. You can stick your poppy pod stems into a green florist's sponge to hold them steady.
Use Pods in Wreaths
Wreaths are not just for Christmas—you can make and display a wreath at any time of year when you use different types of dried flowers, such as statice and hydrangea. Nuts, seedpods and dried berries are other items your wreath can include. Poppy seedpods add interest to any wreath and harmonize well with many other types of dried foliage.
Make Potpourri
When you mix poppy pods with other materials such as dried apple slices and wood chips, they add to an attractive potpourri. Purchase a scent you like at a craft store and display your potpourri on your coffee table or another area where people can see it, smell it and enjoy it.