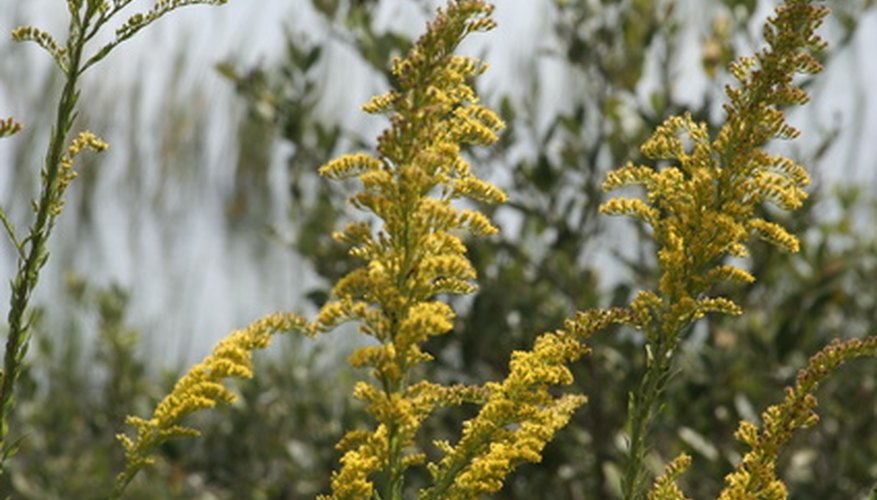 With advance planning, you can fill your garden with plants that only begin to peak around Labor Day. From low growers to fill in where summer annuals once bloomed, to tall plants and shrubs, late summer flowering ornamentals will recharge your garden and your spirit.
Anise Hyssop
Few plants bring as much to fading summer gardens as anise hyssop (Agastache foeniculum). A mint family perennial, it's hardy to -30 degrees F. Up to 4 feet high and 3 feet wide, anise hyssop has anise (licorice) scented, oval green leaves on square stems. From mid-summer through September, according to the Missouri Botanical garden, its eye-catching, cylindrical spikes of lavender or purple blooms appear. They work well in fresh or dried floral designs. This plant is a magnet for hummingbirds and butterflies. Its leaves make tea or jelly. The seeds are often used in baked goods. Plant anise hyssop in perennial borders or butterfly gardens. The plant prefers full sun for best results, but tolerates partial shade. Provide well-drained, dry to averagely moist soil. Remove dead flowers to encourage new ones.
Goldenrod 'Golden Fleece'
Goldenrod (Solidago sphacelata) 'Golden Fleece' is a low, spreading aster family perennial. Withstanding winter temperatures as low as -30 degrees F, it grows 12 to 18 inches high and wide. A basal clump of green, heart-shaped leaves, attractive even when the plant isn't flowering, make it a good choice to replace tired annuals. Profuse spikes of vivid, golden-yellow blooms appear on rigid stems above the foliage in August and September, according to the Missouri Botanical Garden. Use 'Golden Fleece' as a rock garden, perennial border or ground cover plant. Give it full sun and dry to averagely moist, well-drained soil. Monitor plants for leaf rust.
Toad Lily 'Gilt Edge'
Perennial toad lily (Tricyrtis formosana), a shade-loving lily family plant, brings unusual late summer blooms to the garden. The 'Gilt Edge' cultivar is a 12- to 18-inch high plant with lime-green margins on dark green, glossy oval leaves. Foliage provides garden interest before and after 'Gilt Edge' blooms. Its branching clusters of purple-splotched, white flowers appear in August and September. They work well in fresh flower designs, according to the Missouri Botanical Garden. Plant 'Gilt Edge' in a border or shade garden where its delicate blooms will be visible. It does best in consistently moist, humus-rich, acidic (pH below 6.8) soil. Toad lily is hardy to -20 degrees F.