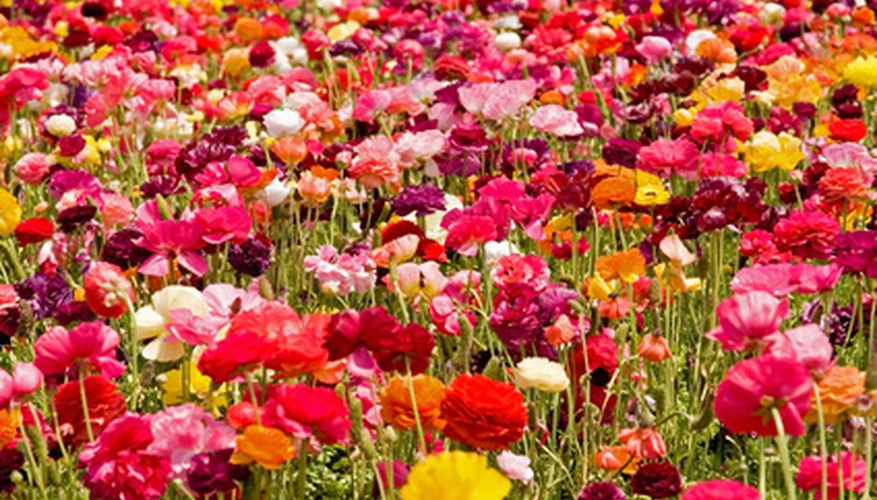 asiatic ranunculus flowers image by Chad McDermott from Fotolia.com
Ranunculus plants (R. asiaticus) are colorful, showy flowers that have a delicate, ruffled appearance. Often called "Persian buttercup," these cool-weather perennials can be grown as annuals in hot climates and are also popular as cut flowers. Ranunculus plants grow best in climates that have long, cool springs, according to the Missouri Botanical Garden, and in rich, well-draining soil with full sun exposure.
Ranunculus Bloomingdale
Bloomingdales are known for their lavishly ruffled flowers. The flowers are shaped like a bowl and have many layers, making it look like single layers of flower petals are stacked upon each other. The flowers can get up to 6 or more inches tall, making this one of the taller varieties. Bloomingdale ranunculus plants are beautiful as cut flowers and are often grown for this reason. These plants come in a wide variety of colors, including pastels and jewel tones. It is often hard to predict exactly which colors will appear after planting these ranunculus bulbs.
Ranunculus Crenatus
Ranunculus crenatus is not a very well-known ranunculus variety. The white flowers are small and single-petaled, so they are not nearly as showy as most other varieties. In addition, R. crenatus has roots that spread rather rapidly. The leaves, however, are small, neatly rounded and bright green. The attractive foliage coupled with this variety's spreading habit make this type of ranunculus a popular choice with home gardeners who want a flowering ground cover.
Ranunculus Mache
Mache blooms earlier than other varieties of ranunculus--up to two weeks earlier, according to Greenhouse Product News Magazine. This makes Mache a good choice for home gardeners looking for a plant that will give showy, early spring color. The deep-green leaves and full shape of this plant make it a great choice for container planting.
Ranunculus Tecolote
Tecolote features smaller flowers than some other varieties, but they come in a wide array of colors. In fact, one bulb can produce several flowers of more than one color. Some of the flowers may even be bicolored, with edges that contrast with the main colors of the petals. The flowers average in height from 3 to 5 inches and are produced atop straight, slender stems. .