Pansies are colorful flowers, generally sold as annual bedding plants. Many are biennials, which produce foliage the first year and flowers the second. There are also annual and perennial pansies. They are all from the violet (Viola) family. Pansies can have a long flowering period, because they are able to bloom at temperatures as low as 40 degrees F.
Wild Pansy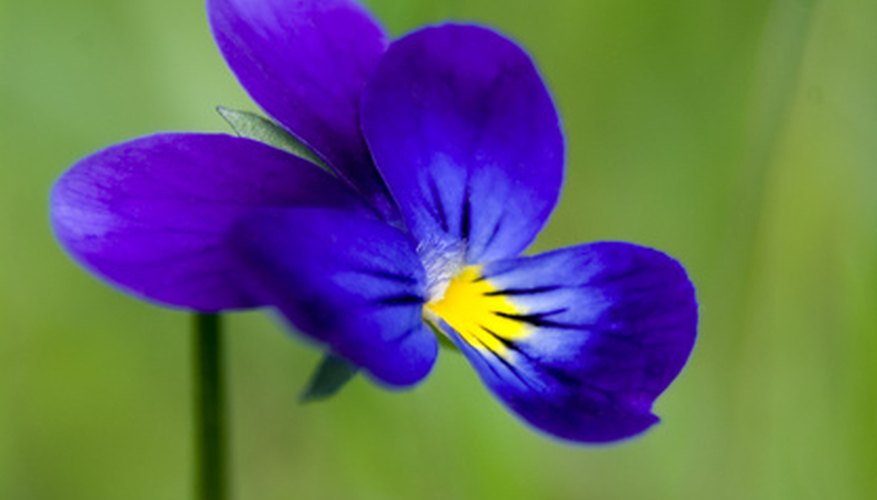 Wild pansy (Viola tricolor), a small annual pansy, is native to many parts of the United States. It develops seed pods, which disperse seed for next year's bloom. This flower has dark purple to black petals, with a yellow blotch in the center. It is not uncommon to find it with white markings. Some variations may even have lighter colored markings. An edible pansy, the flower can be candied for cake decorations. It can also be tossed fresh into salads or used as a garnish. It is also a favorite pressed for craft projects. This plant is bushy and upright, with linear medium green leaves. Wild pansy is not fussy about soil or the amount of sunlight it receives.
Mountain Pansy
Mountain pansy (Viola lutea) is native to Europe. It is a common wildflower in the English countryside. A perennial pansy, it has small creamy yellow flowers, with blue and purple striations. It is found in full sun situations, in areas of alkaline soil. It will be covered with blooms from spring until fall. It can be sheared when it gets shabby, and will rebloom again. Mountain pansy is hardy to USDA Zone 4.
Winter Pansy
Winter pansy (Viola cornuta) received its name because of its winter-blooming habit. It has a small flower typical of a species pansy. It is a perennial that will return from the roots each year. A European native, it was originally discovered in Spain and France, but can also be found growing in the U.S. The flower color is lavender with yellow and white markings. You can find hybrid winter pansies in an array of colors. This pansy is hardy to USDA Zone 3.
Hybrid Pansy
Wild pansies were bred to have much larger flower petals. These hybrid pansies are classified as 'Viola x wittrockiana.' They can have ruffled petals or very smooth edges. Most have colorful outer petals, with a different colored blotch in the center. There are also solid colored hybrid pansies. They can be planted in both spring and fall to extend the gardening season. When planted in the fall, they will continue to bloom until the first hard freeze. In mild winter areas they may remain evergreen and continue to bloom throughout the winter. In regions with colder winters, they will die back and need to be replanted each year. Hybrid pansies are not particular about soil. They do fine given average water and sunlight.