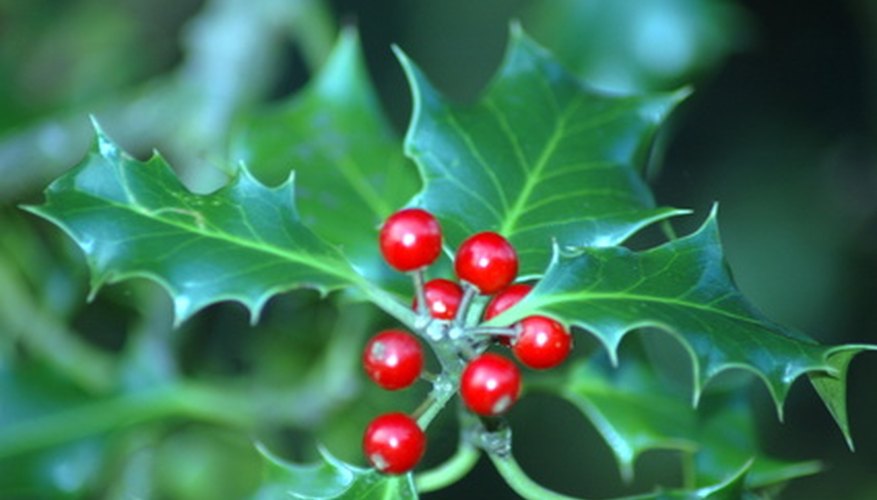 Holly bushes fall into a family of plants called broad-leaf evergreens. These plants retain their foliage year-round and provide stability in a changing landscape. Buying holly bushes adds dimension to the landscape as well as a permanent resident in your garden. Holly shrubs offer a variety of plants to suit many different locations. These bushes also produce red fruit on female plants.
Evaluate the sunlight conditions in the planting location. Holly bushes prefer full sun to partial-sun planting locations. Sites must have well-drained soil with no pooling from downspouts or drainage from buildings. Select a location that also offers protection from strong winds.
Determine the maximum space needed for the plant to reach mature height. Look at the available space in the garden and envision what the planting site would look like with a mature shrub. Also consider the area behind the proposed location when considering the maximum height and width that will fit the location.
Collect a soil sample from the planting site for analysis by the garden center or a university cooperative extension service. Soil quality directs affects the health of a holly bush. These plants prefer rich, organic soil with a pH between 5.5 and 6.5. Soil analysis provides a list of the amendments required to increase soil quality to nourish a holly bush and protect your landscape investment.
Consult the USDA Hardiness Zone map for your area. Select your state and location to determine the lowest minimum temperature that a hardy perennial plant tolerates in your climate. Match the color code to the USDA zone legend to determine your exact zone. The plant's hardiness zone is printed on the growing instructions provided with shrubs at the nursery.
Visit the garden center and consult with an experienced horticulturist to determine which holly cultivars work best for your climate. Local nurseries sell plants tolerant to the soil and climate needs in a particular area. Make sure to check mature plant height and width on each plant label before you buy holly bushes.
Decide if you prefer to have more than one holly bush to allow the plant to produce fruit. Most cultivars require one female and one male plant for berry production. Holly bush names feature a masculine or feminine distinction such as princess, girl, prince or boy to assist buyers in choosing compatible plants. Select plants with similar proper names for best fruit production.