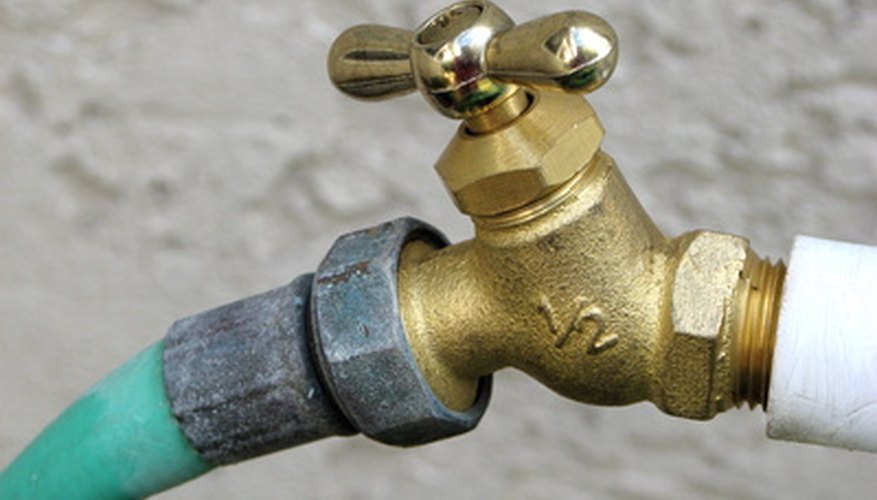 Shade trees offer a cool respite during the hot summer. Their leafy canopies block the sun and shelter a range of shade-loving plants. Many shade trees, like the birches, willows and maples, require frequent watering and cannot tolerate drought. But there are some species that are resistant to drought and have conquered their water dependency.
Strawberry Tree
The strawberry tree (Arbutus unedo), also called arbutus or cane apple, is drought tolerant and can even grow in desert regions. According to Floridata.com, it may need to be watered only during the fall and winter, when it is dormant. Strawberry tree grows in USDA Hardiness Zones 7 to 10. It is not picky about its soil, and it grows in full sun to part shade. The tree, which is evergreen, grows 30 feet tall and wide, though some varieties are smaller. It produces white or pinkish flowers in fall and winter, with round, red, warty fruits appearing. The fruits, which may take up to a year to ripen, at times are on the tree along with the flowers.
Coast Live Oak
Coast live oak (Quercus agrifolia) is native to coastal California. It does not require watering after it has become established, except in the cases of extreme drought. This deciduous shade tree grows from 30 to 75 feet tall, with a 60- to 80-foot spread. It produces a large crop of medium-sized acorns every two to three years, according to the USDA Natural Resources Conservation Service. The coast live oak grows well in USDA Zones 7 to 10, in well-drained loam. It is fire-resistant, producing new shoots after being lightly burned, according to the Conservation Service.
Chinese Elm
Chinese elm (Ulmus parvifolia) is fast-growing and often under-used in the home landscape, according to the USDA Forest Service. The tree is evergreen in warmer climates and deciduous in frost areas. It is hardy in USDA Zones 5b to 10a. Its dark-green, shiny leaves turn variations of purple, red or yellow in the fall. The Chinese elm can reach 40 to 80 feet tall, with a spread of up to 50 feet. It has a high tolerance for drought, and it can grow in either acidic or alkaline well-drained soil.