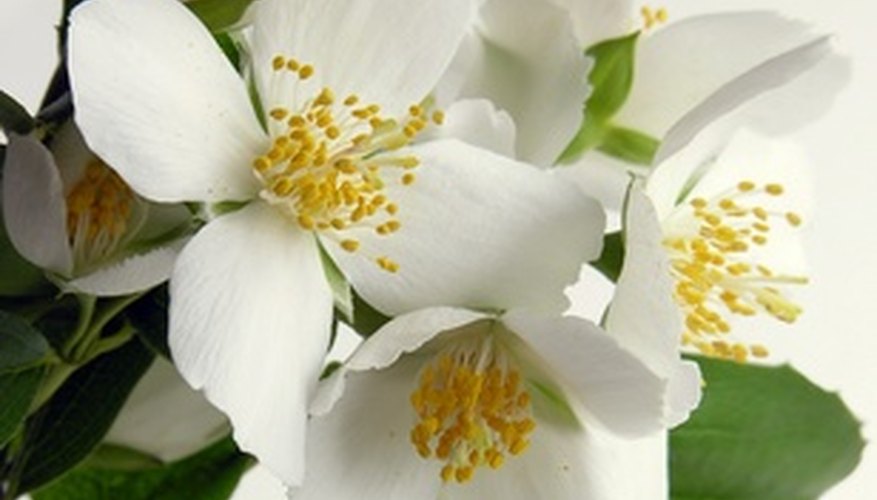 Jasmine is a fragrant flowering bush or vine that, in many varieties, flowers at night. Although normally thought of as a tropical plant, some varieties will grow well in many parts of North America. Jasmine is often used as a cosmetics fragrance and as a culinary flavoring agent. If you are fortunate enough to live in a place where jasmine thrives, it can add a fragrant scent to the air when planted near doors or windows.
Varieties
Jasmine is native to various parts of Asia. Pink jasmine is a fast-climbing evergreen vine that can cover as much of 25 feet of a wall or fence. It is native to southern and western China. Belle of India is native to India. Its flowers are slim, oval-shaped buds with a sweet fragrance. The Arabian Nights variety of Jasmine originated in India, but is cultivated in many parts of southern China. Arabian Nights is the jasmine that is used in many perfumes and is the flavoring in jasmine teas.
Hardiness
Jasmine is a tropical flower that will not grow well in temperatures below 50 degrees F. However, some varieties can over winter as a perennial in zones as cold as United States Department of Agriculture (USDA) Hardiness Zone 6. Zone 6 jasmine is called "hardy jasmine" and will not do well in warmer climates. It needs the cold of freezing or below-freezing temperatures to flower at its full potential.
Soil
Jasmine will grow in almost any soil type. It will do equally well in sandy soil as in loam. It is tolerant of clay soils. It does best in soils that drain well. Jasmine prefers soils with a pH of between 4.9 and 8.3.
Light and Water
Jasmine does best in full sun. Some varieties may grow well in partial sun, but will generally do better in full sun. Jasmine requires a lot of water. The exact watering schedule will depend on your local climate conditions and on the variety you are growing.
Pruning
Many types of jasmine, especially tropical jasmine, grow quickly and densely. They need to be pruned regularly both to manage size and for the health of the plant. Many varieties benefit from a severe pruning nearly back to the ground. After a severe pruning, healthy rootstock will trigger rapid growth of new, vigorous plant runners.