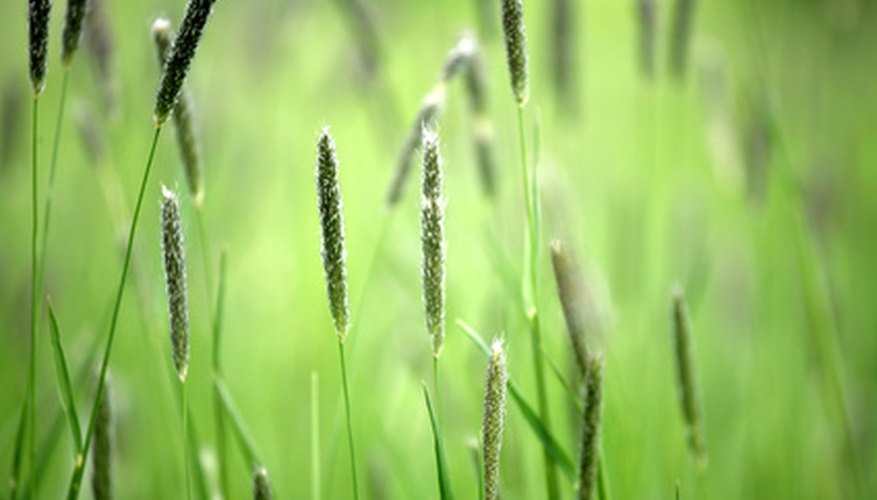 Grass has a habit of spreading on runners known as rhizomes and stolons. When the runners are below ground, they are known as rhizomes. Above ground runners are stolons. These runners can help grass grow in places where you do not want grass to grow, such as your flower beds or vegetable patch. While you can kill grass in these beds effectively with a systemic herbicide that contains glyphosate, the herbicide will also kill anything else that it comes into contact with, such as your vegetables. To kill just the grass in your garden, use good cultural practices including mulching and cultivating.
Cover grass with a thick pad of newspaper or cardboard to smother it. Grass grows best when it has plenty of access to sunlight. Newspaper or cardboard smother grass by blocking its access to sunlight. You can plant transplants directly into soil that you have covered with cardboard or newspaper by cutting a hole in the mulch, pulling back soil and placing the plant directly into the hole.
Spread loose mulch such as straw over the top of newspaper or cardboard to help hold down the paper and disguise its presence. Mulch also helps hold moisture in and helps the paper mulch to disintegrate faster.
Hand-pull grass roots that pop up around the base of plants. Dig through the soil and pull up all roots of the plant to avoid a return of grass.
Apply a selective herbicide to kill grass that grows around certain trees, such as conifers. These trees are immune to broadleaf herbicides such as Envoy, Vantage or Fusilade. The herbicides often come in spray bottles, and may be sprayed directly around the base and root system of a young conifer.
Scatter a pre-emergent granulated herbicide over your landscaping bed. An herbicide such as this prevents seeds from sprouting, but does not harm transplants. Water your landscaping bed to release the herbicide into the soil. Re-apply granulated pre-emergent herbicide every 30 days throughout spring, when grass is most likely to sprout from seed.
Things You Will Need
Newspaper

Cardboard

Straw mulch

Broad leaf herbicide

Narrow spectrum herbicide

Granulated, pre-emergent herbicide