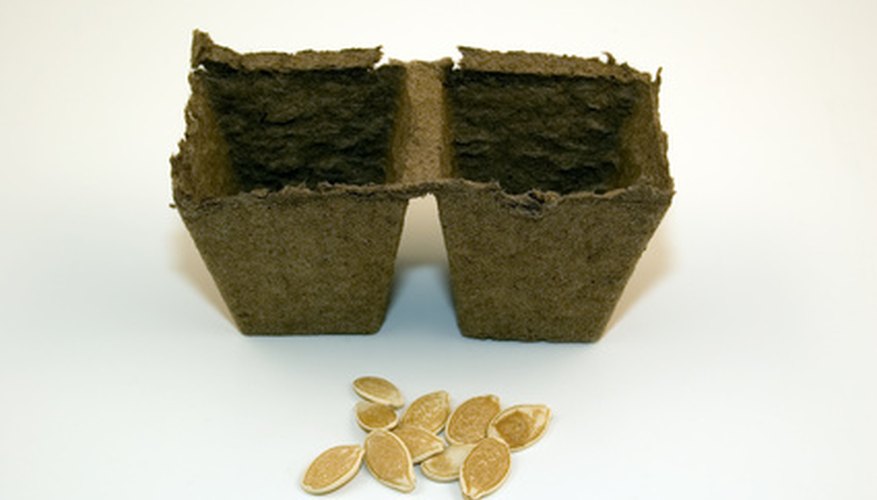 seeds and pots image by Richard Seeney from Fotolia.com
Both home gardeners and professionals use peat pots to start seeds in early spring for later transplanting into the garden. Peat pots are inexpensive and are sold anywhere garden seed is sold. They are available in various sizes and can be purchased individually or in strips of five, ten or 20 pots. Peat pots are made of compressed peat moss and wood fiber molded and compressed by machines into a pot shape. Unlike plastic growing containers, a peat pot can be planted directly in the ground without having to disturb the roots of the plant inside.
Place peat pots in a shallow pan or baking dish so they will remain upright and stable during the growing period.
Fill the peat pots with potting soil to within 1/4 inch of the rim.
Water the peat pots until the soil inside and the pot itself is moist to the touch.
Place selected seed in each individual pot. If the seeds are large, such as squash seeds, use one seed per pot. For smaller seeds, such as peppers or tomatoes, use 2 to 3 seeds per pot, as these can be thinned later to a single plant.
Fill the remainder of the pots with potting soil. Cover with plastic wrap until the seeds germinate and break through the surface of the soil.
Remove the plastic wrap and keep the pots watered as needed to keep the soil inside moist to the touch. Place the pots in a warm, sunny area.
Transplant the pots to the garden when all danger of frost has passed for your area. Bury the entire pot into the ground, as exposed rims of the peat pot can wick needed moisture from the growing plants.
Things You Will Need
Shallow pan or baking dish

Potting soil

Selected seeds to start
Tip
Plastic growing trays can be used to stabilize the peat pots, but you can use any shallow pan to save money.